MARTYRDOM AND THE PROCESS OF RADICALISATION AMONG YOUNG MUSLIMS IN INDONESIA: SOCIAL IDENTITY THEORY PERSPECTIVE
Keywords:
Terrorism, youth, radicalisation, martyrdom
Abstract
The phenomena of suicide attacks targeting overseas people or properties in Indonesia carried out by Indonesian young Muslim seem to be elusive. Different to Palestinian and Middle Eastern contexts where acute conflicts are taking place, there were no celebrations to martyrdom in Indonesia. Majority of Indonesian Muslims not only reject suicide bombing or martyrdom but also condemn it. Indonesian suicide bombers' families, that is not like those of Palestinian martyrs, were not proud of their member's deed and will not get pride from their neighbourhood. They will not get financial advantages because of family's member sacrifice as well. So, what are the reasons that make Indonesian  young Muslims chose to die as a martyr? This article aims to explain the process of radicalisation among young Muslims and reveals the causes and backgrounds of young martyrs in Indonesia based on Social
Identity Theory (SIT). Findings of many studies on religious motivated violent attacks are used as comparisons.
References
Abuza, Zachary (2009). The Rehabilitation of Jemaah Islamiyah Detainees in South East Asia: A Preliminary Assessment. In T. Bjorgo and J. Horgan (Eds.). Leaving Terrorism Behind: Individual and Collective Disengagement. New York: Routledge. pp. 193-211

Aljazeera. (2010). TV programme "witness. http://english.aljazeera.net/ programmes/witness/2010/08/201081664431710754.html.

Davis, Drew, (2010). Al-Qaeda in the Malay Archipelago: A Case Study of the July 2009 JW Marriott & Ritz-Carlton Bombings in Jakarta, Indonesia. http://www.paxamerica.org/wp-content/uploads/2010/03/CASE-STUDY-The-July-2009-JW-Marriot-Ritz-Carlton-Bombings-in-Jakarta.pdf

Grosbard, Ofer (2008) The Drama of the Suicide Terrorist, in M. Sharpe (Ed.), Suicide Bombers: Psychological, religious and Other Imperatives. Amsterdam: IOS Press. p.145-150.

Hogg, M. A. & Abrams. D. (2003). Intergroup Behavior and Social Identity, in M. A. Hogg & J. Cooper (eds.). Handbook of Social Psychology. London: Sage.

Hooker, V. and Fealy, G. (2006). Introduction to the Sourcebook, in V. Hooker, and G.. Fealy, (Eds.). Voices of Islam In Southeast Asia: A contemporary Source Book. Singapore: Institute of Southeast Asian Studies.

Horgan, John (2003) The search for the Terrorist Personality, in Andrew Silke, (ed.) Terrorists, Victims, and Society: Psychological Perspectives on Terrorism and its Consequences. West Sussex: Jon Wiley & Sons Ltd., pp.5-16.

Horgan, John (2008). Deradicalisation or disengagement?. Perspectives on Terrorism, 2(4): 3-8. Available at: http://www.terrorismanalysts.com/pt/articles/issues/PTv2i4.pdf

International Crises Group (ICG) (2004) Indonesia Backgrounder: Why Salafism and Terrorism Mostly Don't Mix. Asia Report No. 83. Brussels: International Crisis Groups. http://www.seasite.niu.edu/Indonesian/Islam/83_indonesia_backgrounder_why_salafism_and_terrorism_don_t_mix_web.pdf

International Crises Group (ICG) (2009, 24 July). Indonesia: The Hotel Bombings. Asia Briefing N°94. Jakarta/Brussel. http://www.crisisgroup.org/en/regions/asia/south-east-asia/indonesia/B94-indonesia-the-hotel-bombings.aspx

Kinnvall, Catarina (2004). Globalization and Religious Nationalism: Self, Identity, and the Search for Ontological Security. Political Psychology, 25(5):741-767.

McCauley, C. & Moskalenko, S. (2008). Mechanisms of Political Radicalisation: Pathways Toward Terrorism, Terrorism and Political Violence, 20:415433.

Mehden Fred, R. Van Der. (2005). Radical Islam in Southeast Asia and its Challenge to U.S. Policy. James Baker III Institute for Public Policy of Rice University.

Moghadam, Assaf. (2008). The Globalization of Martyrdom: Al-Qaeda, Salafi Jihad, and the Diffusion of Suicide Attacks. Maryland: The John Hopkins University Press.

Moghaddam, Fathali. M. (2005). The Staircase to Terrorism: A Psychological Exploration. American Psychologist, 60 (2), 161169.

Osman, Sulastri. (2009). The Fatal Allure of Extremist Logic: Syaifudin Zuhri and the July 17 Suicide Bombers, RSIS Commentaries, Nanyang Technology University Singapore. Available at: http://www.rsis.edu.sg/publications/Perspective/RSIS1042009.pdf

Pedahzur, Ami (2005). Suicide Terrorism. Cambridge and MA: Polity.

Post, Jerrold M. (2005). The Psychological and Behavioral Bases of Terrorism: Individual, Group and Collective Contributions. International Affairs Review, 14 (2), 195-204. http://www.iar-gwu.org/files/2005/FW05_Spotlight.pdf

Richardson, L. (2006). What terrorist want. Understanding the terrorist threat. London: John Murray.

Roy, Oliver. (2004). Globalised Islam: The Search for a New Ummah. London: Hurst & Co. (publishers) Ltd., p.200.

Sarwono, Sarlito W. (2007). What is in their minds?: The psychology of suicide bombers in Indonesia.http://www.victoria.ac.nz/nziia/assets/talks/wn/What%20is%20in%20ther%20Minds%208%20November2007.pdf

Silke, Andrew (2003) The Psychology of Suicidal Terrorism, in Andrew Silke (ed.). Terrorists, Victims, and Society: Psychological Perspectives on
Terrorism and its Consequences. (pp.94- ). West Sussex: Jon Wiley & Sons Ltd.

Staunton, Dick (2008). The Clash of Identities: An Analysis of The Causes of Salafi Jihadi Terrorism with Reference to Jemaah Islamiyah, Studies in Ethnicity and Nationalism, 8(1): 142-164.

Watt., Montgomery. (1956). Muhammad at Medina. Oxford: Clarendon.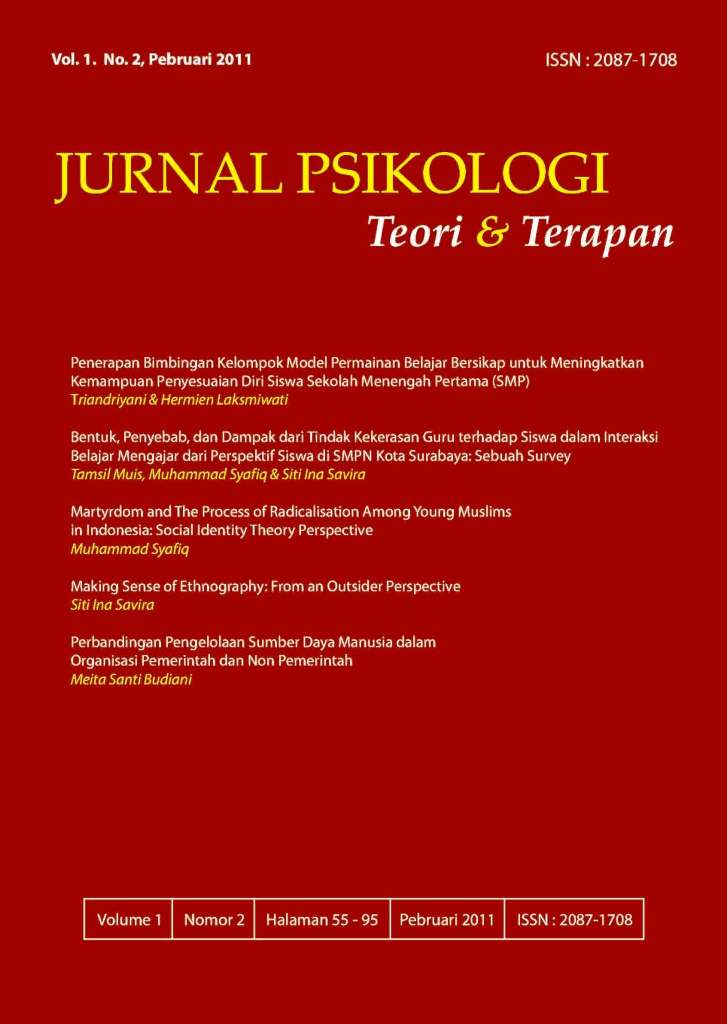 Downloads
How to Cite
Syafiq, M. (2011). MARTYRDOM AND THE PROCESS OF RADICALISATION AMONG YOUNG MUSLIMS IN INDONESIA: SOCIAL IDENTITY THEORY PERSPECTIVE. Jurnal Psikologi Teori Dan Terapan, 1(2), 75–81. https://doi.org/10.26740/jptt.v1n2.p75-81
License
Authors who publish with this journal agree to the following terms:

Abstract views: 495 ,

PDF Downloads: 379