STUDI FENOMENOLOGI PENGALAMAN PENYESUAIAN DIRI MAHASISWA PAPUA DI SURABAYA
Keywords:
Penyesuaian diri, strategi coping
Abstract
This study was aimed to explore the Papua students' adaptation experience while they are studying in Surabaya. A qualitative approach with phenomenological method was applied. Seven participants were recruited using purposive and snowball sampling. Data collected using semi-structural interviews and analysed using interpretative phenomenological analysis (IPA). The results shows that Papua students face many difficulties in adapting to the local society. The difference in physical characteristics, language and cultural habit are the main reasons. These difficulties affect their personal and sosial life. At personal level, inferiority and sensitivity are the main issues, while at the social level, passivity and enclave formation are dominant tendencies. In order to solve the difficulties and its effects, participants apply some strategies, namely avoidance, self control, and active coping. These strategies are chosen by participants to gain self development and wellbeing. It can be concluded from the result that most partisipants are facing adaptation difficulties while they are studying in Surabaya; however, they make some efforts to cope the difficulties.
Abstrak: Penelitian ini bertujuan untuk mengetahui bagaimana pengalaman penyesuaian dirivmahasiswa Papua di Surabaya. Pendekatan kualitatif dengan metode fenomenologis digunakan. Tujuh partisipan berhasil direkrut dengan teknik purposive dan snowball sampling. Data dikumpulkan melalui wawancara semi-terstruktur dan dianalisis menggunakan interpretative phenomenological analysis (IPA). Hasil penelitian menunjukan bahwa mahasiswa Papua di Surabaya mengalami berbagai hambatan dalam menyesuaikan diri ketika sedang menjalani kuliah. Penyebab hambatan itu adalah adalah perbedaan dalam bahasa dan kebiasaan budaya. Partisipan juga mempersepsi perbedaan fisik dan warna kulit sebagai penyebab hambatan interaksi. Hambatan interaksi yang dihadapi menimbulkan dampak personal maupun sosial bagi para partisipan. Inferioritas dan sensitifitas adalah di antara beberapa dampak personal yang dialami. Sedangkan kecenderungan untuk lebih bergaul hanya dengan sesama mahasiswa Papua dan keengganan berhubungan dekat dengan mahasiswa dan masyarakat lokal menjadi dampak sosialnya. Namun, adanya hambatan interaksi dan dampaknya tersebut disadari oleh partisipan cukup merugikan sehingga mereka menjalankan beberapa strategi penyesuaian diri untuk mengatasinya. Beberapa strategi yang dapat diidentifikasi adalah: menghindar dari masalah (avoidance), berupaya mengendalikan emosi, pikiran, dan perilaku (self control), dan menghadapi masalah secara aktif (active coping). Berbagai strategi tersebut dilakukan terutama didorong oleh dua tujuan, yaitu demi pengembangan diri dan untuk menjaga kesejahteraan psikologis mereka. Penelitian ini menyimpulkan bahwa partisipan penelitian ini menghadapi berbagai kesulitan dalam beradaptasi dengan masyarakat lokal di mana mereka sedang studi, namun mereka melakukan upaya untuk mengatasi hambatan-hambatan adaptasi tersebut.
References
Berry, J. W., Phinney, J. S., Sam, D. L., & Vedder, P. (2006). Immigrant Youth: Acculturation, Identity, and Adaptation. Applied Psychology: An International Review, 55 (3), 303332.

Diener, E., Oishi, S., & Lucas E. R. (2007). The optimal level of well-being: Can we be too happy? Perspectives on Psychological Science, 2, 346-360.

Elliot, R., Fiscer, Y., C., & Rennie, L., D. (1999). Envolving Guidelines For Publication of Qualitative Research Studies in Psychology And Related Fields. British Journal of Clinical Psychology, 38, 215-229.

Furnham, A., & Bochner, S. (1986). Culture Shock: Psychological Reactions for Unfamiliar Environments. London:Mathew & Co. Ltd.

Lazarus, R.S. (1976). Patterns of Adjustment. New York: McGraw-Hill.

Lewthwaite, M. (1996). A Study of International Students' Perspectives of Cross-cultural Adaptation. International Journal for the
Advancement of Counseling, 19, 167-185.

Maganga, S. M. (2009). An Antropological Study of The Experiences of Exchange Student In Port Elizabeth, South Africa. [Thesis]:
Nelson Mandela Metropolitan University.

Melda, S.S. (2008). Hubungan Antara Konsep Diri Dan Penyesuaian Diri Dengan Prestasi Belajar Pada Mahasiswa Baru Universitas
Sumatra Utara. Skripsi: Universitas S u m a t e r a U t a r a . D i a k s e s dari h t t p : / / r e p o s i t o r y . u s u . a c . i d/bitstream/ 123456789/ 23634, pada 20 juli 2012.

Niam, E., K. (2009). Koping Terhadap Stress Pada Mahasiswa Luar Jawa Yang Mengalami C u l t u r e S h o c k d i U n i v e r s i t a s
Muhammadiyah Surakarta. Indegenius: Jurnal Ilmiah Berkala Psikologi,11(1), 69-77

Padila, A., & Perez, W. (2003). Acculturation, Social Identity, and Social Cognition: A New Perspective. Hispanic Journal of Behavioral Sciences, 25(1), 35-55.

Papalia, D. E., Olds, S. W., & Feldman, R. D. (2008). Human development: Psikologi Perkembangan. Edisi kesembilan. Jakarta: Kencana.

Pietila, I. (2010). Intercultural Adaptation as a Dialogical Learning Proses: Motivational Factors Among the Short-term and Long term migrants. Dissertation: University of T e m p e r e . D i a k s e s d a r i
http://tampub.uta.fi/handle/10024/66616. pada 15 Mei 2012.

Pitopang, A. (2011). Filosofi Merantau:Kontribusi Perantau Untuk Memajukan Kampung Halaman. Diakses dari . Pada 15 Mei 2012

Shiraev, E. B., & Levy, D. A., (2012). Psikologi Lintas Kultural: Pemikiran Kritis dan Terapan Modern. Edisi ke-4. Jakarta : Kencana

Sicat, R. M, (2011). Foreign Student Cultural Adjustment and Coping Strategies. International Proceedings of Economics Development and Research (IPEDR), 5, 3 3 8 - 3 4 1 . D i a k s e s d a r i
http://www.ipedr.com/vol5/no2/74- H10195.pdf, pada 15 Mei 2012.

Sihabudin, A. (2011). Komunikasi Antarbudaya: Satu Perspektif Multidimensi. Jakarta: Bumi Aksara.

Smith, J. A. and Eatough, V. (2007). Interpretative Phenomenological Analysis. In E. Lyons And A. Coyle (Eds.). Analysing Qualitative Data in Psychology (pp. 35-50). London: Sage.

Sodjakusumah, I., T. & Everts, H. (1996). Strangers In A Strange Land - Indonesian Students In New Zealand Universities And The Challenge In Pastoral Care. Paper presented at the ERA-AARE Conference, Singapore. D i a k s e s d a r i h t t p : / / w w w. a a r e . e d u . a u / 9 6 p a p / everh96344.txt. pada 15 Juli 2012.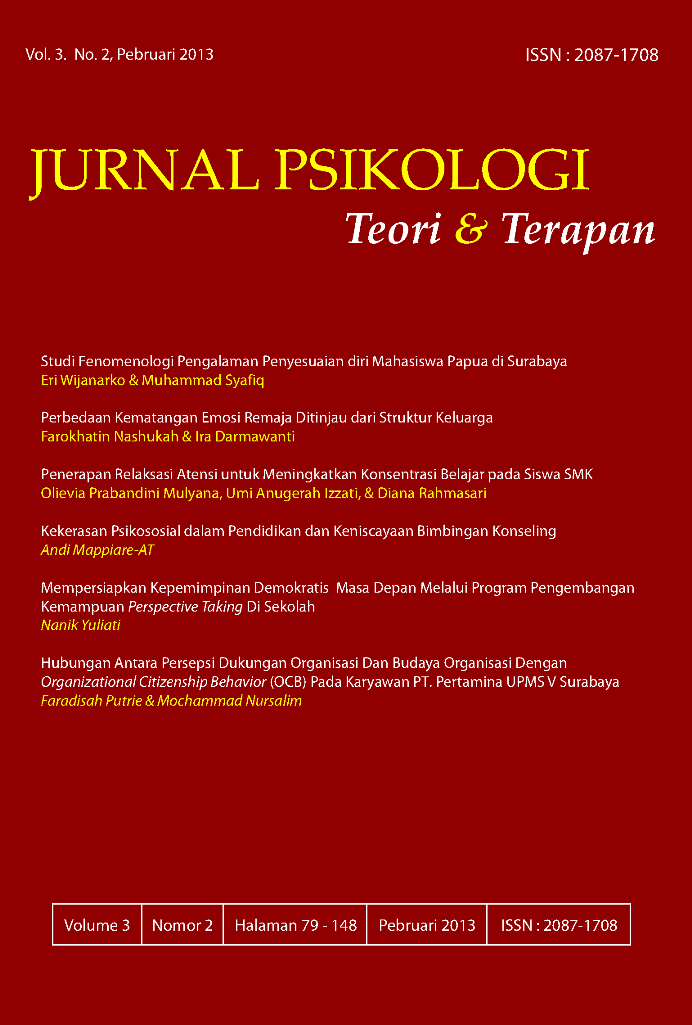 Downloads
How to Cite
Wijanarko, E., & Syafiq, M. (2017). STUDI FENOMENOLOGI PENGALAMAN PENYESUAIAN DIRI MAHASISWA PAPUA DI SURABAYA. Jurnal Psikologi Teori Dan Terapan, 3(2), 79–92. https://doi.org/10.26740/jptt.v3n2.p79-92
License
Authors who publish with this journal agree to the following terms:

Abstract views: 9589 ,

PDF Downloads: 14446