IDENTITAS œLAJANG (SINGLE IDENTITY) DAN STIGMA: STUDI FENOMENOLOGI PEREMPUAN LAJANG DI SURABAYA
Keywords:
Perempuan lajang, ancaman identitas, stigma
Abstract
This study was aimed to explore middle class single adult women's experience concerning their identity as a single in Surabaya. The number of single adult women in Surabaya has been increased since 2010 until recently. Phenomenological method was used in this study. Data collected using indepth semi-structured interviews and analysed using IPA (Interpretative Phenomenological Analysis). This study reveals three themes, namely the experience of being stigmatized, psychological impacts of the stigma, and strategies employed to cope with stigma and psychological discomforts. Most participants reported that they are called as œperawan tua  (spinster), œtidak laku (leftover) by social surroundings. They are also blamed as having negative traits such as introvert because of their single status. The experience of being stigmatized has impacted on their psychological discomforts such as insecure feelings and loneliness. To cope with stigma and psychological discomforts, most participants employed some strategies, namely reevaluating single identity in positive ways, avoiding situations wich invite stigma, and accepting God's destiny and plan.
Abstrak: Penelitian ini bertujuan untuk mengetahui pengalaman perempuan lajang kelas menengah di Surabaya. Meningkatnya jumlah perempuan lajang di Surabaya dari tahun 2010 hingga tahun 2012 dan masih dijumpainya stigma negatif kepada perempuan lajang menjadi dasar dilakukannya penelitian ini. Metode yang digunakan adalah kualitatif fenomenologis dengan pengambilan data menggunakan wawancara semiterstruktur. Data yang telah diperoleh dianalisis menggunakan teknik analisis interpretative phenomenological analysis (IPA). Penelitian ini berhasil mengidentifikasi tiga tema utama, yaitu pengalaman terkait stigma terhadap identitas lajang; kondisi psikologis akibat stigma terhadap lajang, dan cara menghadapi tekanan dan stigma. Para partisipan melaporkan bahwa mereka dianggap dan diperbincangkan sebagai perawan tua, perempuan tidak laku, dan memiliki sifat tertutup yang tidak mendukung terjalinnya hubungan intim. Pengalaman stigma tersebut telah mempengaruhi kondisi psikologis sebagai perempuan lajang, yaitu perasaan tertekan dan kesepian. Dalam menghadapi tekanan akibat stigma dan upaya untuk mengatasi tekanan psikologis tersebut, para partisipan penelitian ini menempuh strategi untuk mempertahankan rasa identitas yang positif sebagai lajang, antara lain: memaknai kembali status lajang lebih positif, menghindari situasi yang menimbulkan stigma, dan menyerahkan diri pada takdir.
References
Baron, R. A., & Byrne, D. (2003). Psikologi Sosial (Jilid 1 & 2). (edisi Terjemahan). Jakarta: Erlangga.

Burke, P. J., & Stets, J. E. (2000). Identity Theory and Social Identity Theory. Social Psychology Quarterly, 63 (3), 224-237.

Byrne, A., & Carr, D. (2005). Caught in the cultural lag: The stigma of singlehood. Psychological Inquiry, 16, 84141.

Conley, T. D., & Collins, B. E. (2002). Gender, relationship status, and stereotyping about sexual risk. Personality and Social Psychology Bulletin, 28, 14831494.

DePaulo, B. (2008, November 1st ). Living Single Longer: It's a Global Phenomenon. Psychology Today. Diakses dari: http://www.psychologytoday.com/blog/living-single/200811/living-single-longer-its-global-phenomenon. pada 2 juli 2013.

DePaulo, B. M., & Morris, W. L. (2005). Singles in society and in science. Psychological Inquiry, 16,5783.

DePaulo, B. M., & Morris, W. L. (2006). The unrecognized stereotyping and discrimination against singles. Current Directions in Psychological Science,15, 251254.

Derks, B., Inzlicht, M., & Kang, S. (2008). The Neuroscience of Stigma and Stereotype Threat. Group Processes & Intergroup Relations , 163-181.

Elliot, R., Fischer, C.T., dan Rennie, D.L. (1999). Evolving guidelines for publication of qualitative research studies in psychology and related. British Journal of Clinical Psychology, 38, 215-229

Emzir. (2010). Metodelogi Penelitian Kualitatif, Analisis Data. Jakarta: Raja Grafindo Persada.

Etaugh, C., & Birdoes, L. N. (1991). Effects of age, sex, and marital status on person perception. Perceptual and Motor Skills, 72, 491497.
Feldman, P. O. (2009). Human Development: Perkembangan Manusia. Jakarta: Salemba Humanika.

Goffman, E. (1963). Stigma: Notes on the management of spoiled identity. Englewood Cliffs, NJ: Prentice Hall.

Greitemeyer, T. (2009). Stereotypes of singles: Are singles what we think? European Journal of Social Psychology, 39, 368383

Hapsari, P., Nisfiannoor, M., & Murmanks, A. W. (2007). Konflik Perempuan Jawa yang Masih Melajang di Masa Dewasa Madya. Jurnal Arkhe, 12 (1), 41-56.

Hurlock, E. B. (1980). Psikologi Perkembangan: Suatu Pendekatan Sepanjang Rentang Kehidupan. Jakarta: Erlangga.

Indriana, Y., Indrawati, E. S., & Ayuaningsih, A. (2007). Persepsi Perempuan Karir Lajang Tentang Pasangan Hidup: Studi Kualitatif Fenomenologis di Semarang. Jurnal Arkhe, 12 (2), 153-167.

Korf, L., & Malan, J. (2002). Threat to Ethnic Identity: The Experience of White Afrikaans-Speaking Participants in Postapartheid South Africa. Journal of Social Psychology, 142 (2), 149-169.

Kumalasari, D. (2007). Single Professional Women Sebagai Fenomena Gaya Hidup Baru di Masyarakat Yogyakarta (Studi Kasus: Kabupaten Sleman). (Laporan Penelitian). Yogyakarta: Universitas Negeri Yogyakarta. Diakses dari: http://staff.uny.ac.id/sites/default/files/penelitian/dr.%20dyah%20kumalasari,%20m.pd./single%20professional%20women%20sebagai%20fenomena%20gaya%20hidup%20baru%20di%20masyarakat%20yogyakarta.pdf. pada 2 juli 2013.

Major, B. & O'Brien, L.T. (2005) The Social Psychology of Stigma. Annual Review of Psychology, 56, 393-421.

Markus, H. R., & Kitayama, S. (1991). Culture and the self: Implications for cognition, emotion, and motivation. Psychological Review, 98 (2), 224-253.

Matsumoto, D. (2004). Pengantar Psikologi Lintas Budaya (edisi terjemahan). Yogyakarta: Pustaka Pelajar

Moleong, L. J. (2012). Metodologi Penelitian Kualitatif. Bandung: Remaja Rosdakarya.

Morris, W.L., Sinclair, S., & DePaulo, B. M. (2007). No shelter for Singles: The perceived legitimacy of marital status discrimination. Group Processes Intergroup Relations, 10, 457-470

Noviana, C. L. D., & Suci, E. S. T. (2010). Konflik Intrapersonal Wanita Lajang Terhadap Tuntutan Orangtua Untuk Menikah. Jurnal Psikologi Indonesia, 7 (1), 9-16.

Reynolds, Jill & Wetherell, Margaret (2003). The discursive climate of singleness: the consequences for womens negotiation of a single identity. Feminism & Psychology, 13 (4), 489510.

Reynolds, J. (2002) ˜Constructing the single woman in therapy, The Journal of Critical Psychology, Counselling and Therapy, 2 (1): 2031.

Smith, J. A. & Osborn, M. (2009). Analisis Fenomenologi Interpretatif. Dalam J. A. Smith.(ed.). Psikologi Kualitatif: Panduan Praktis Metode Riset. (Edisi Terjemahan). Pustaka Pelajar: Yogyakarta.

Tajfel, H., & Turner, J. (1979). An integrative theory of intergroup conflict. In W. Astin & S. Worchel (Eds.). The social psychology of intergroup relations (pp. 33-47). California: Brooks/Cole.

To, S. (2013). Understanding Sheng Nu (œLeftover Women): the Phenomenon of Late Marriage among Chinese Professional Women. Symbolic Interaction, 36 (1),1-20. Doi: 10.1002/symb.46.

Walton, G. M., & Cohen, G. L. (2007). A Question of Belonging : Race Social Fit, and Achievement. Journal of Personality and Social Psychology, 92 (1). 82-96.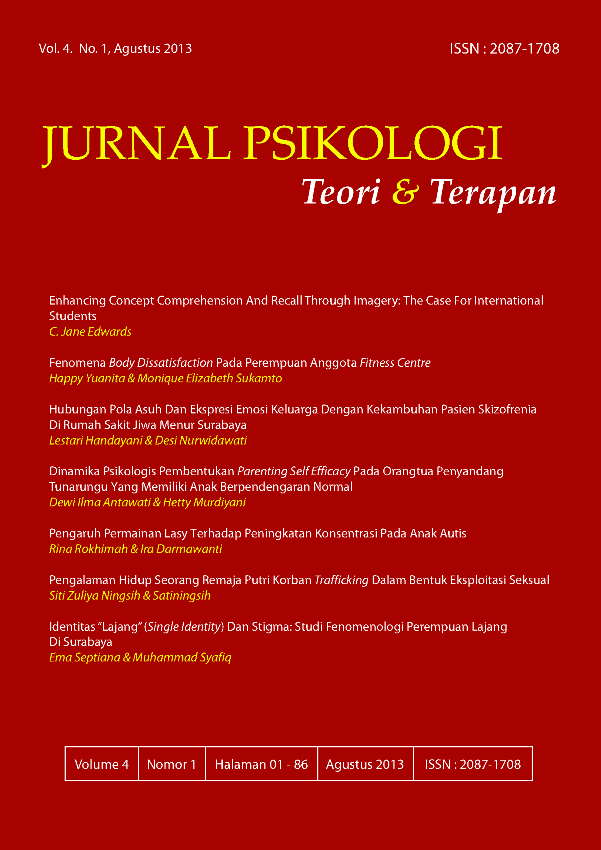 Downloads
License
Authors who publish with this journal agree to the following terms:

Abstract views: 4206 ,

PDF Downloads: 5076