MAKING SENSE OF ETHNOGRAPHY: FROM AN OUTSIDER PERSPECTIVE
Keywords:
Ethnography, knowledge, culture
Abstract
his paper is aimed to compare two ethnographic works Learning to Labour (Willis, 1977), and Masculinity Beyond the Metropolis (Kenway, Kraack, & Hickey-Moody, 2004). The comparison is expected to illustrate how to make sense ethnographic work as a research methodology with its various types of epistemology and approach. The review will begin with a brief outline of the studies as described in each book and follow with further elaboration directed by several headings that covers Crotty (1998) four elements, namely epistemology, theoretical perspective, methodology, and method. It will also discuss the knowledge and values, and the theory of culture of each study.
References
Ambert, A., Adler, P. A., Adler, P., & Detzner, D. F. (1995). Understanding and evaluating qualitative research. Journal of Marriage and Family, 57(4 (Nov., 1995)), 879-893.

Cilliers, P. (2005). Complexity, Deconstruction and Relativism. Theory, culture, and society, 22, 255-267. doi: 10.1 177/0263276405058052

Crotty, M. (1998). Foundations of social research. London: SAGE Publications.

Gray, A. (2003). Research practice for cultural studies. London: SAGE.

Kelliher, F. (2005). Interpretivism and the pursuit of research legitimisation: An integrated approach to single case design. The electronic journal of business research methodology,3 (2), 123-132.

Kenway, J., Kraack, A., & Hickey-Moody, A. (2004). Masculinity beyond the Metropolis: Palgrave Macmillan.

Seale, C. (2012). Researching Society and Culture (3rd ed.). Los Angeles: SAGE.

Walsham, G. (1995). The emergence of interpretivism in IS research. Information systems research, 6:4(December, 1995), 376-394.

Willis, P. (1977). Learning to labour: How working class kids get working class jobs Saxon House, Farnborough.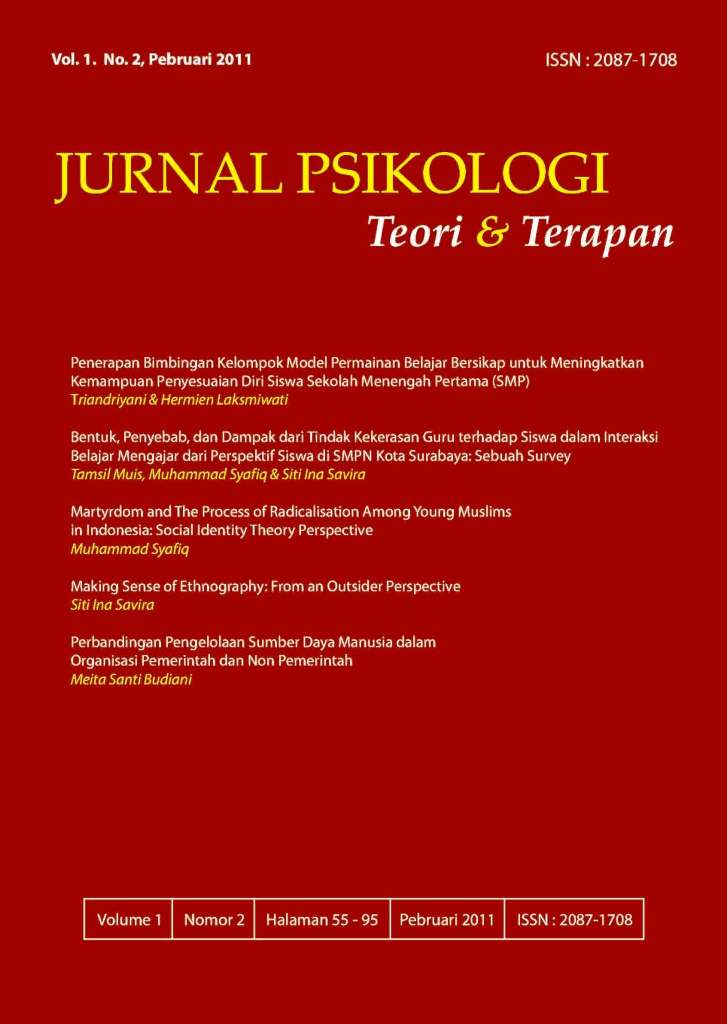 Downloads
How to Cite
Savira, S. I. (2011). MAKING SENSE OF ETHNOGRAPHY: FROM AN OUTSIDER PERSPECTIVE. Jurnal Psikologi Teori Dan Terapan, 1(2), 82–87. https://doi.org/10.26740/jptt.v1n2.p82-87
License
Authors who publish with this journal agree to the following terms:

Abstract views: 292 ,

PDF Downloads: 224