Peran Karakteristik Kerja dan Orientasi Kewirausahaan Terhadap Komitmen Organisasi Karyawan Generasi Milenial Perusahaan X
Keywords:
generasi milenial, karakteristik kerja, komitmen organisasi, orientasi kewirausahaan.
Abstract
Banyak fenomena menunjukkan komitmen organisasi generasi milenial rendah sehingga berdampak pada turnover. Penelitian ini bertujuan mengetahui peran karakteristik kerja dan orientasi kewirausahaan terhadap komitmen organisasi karyawan generasi milenial Perusahaan X. Selama ini belum ada penelitian yang menguji kedua variabel tersebut secara bersamaan terhadap komitemen organisasi, khususnya pada generasi millennial. Penelitian ini menggunakan pendekatan kuantitatif dengan metode korelasional. Subjek penelitian berjumlah 157 dengan kriteria karyawan generasi milenial, bekerja minimal 1 tahun dan diperoleh dengan teknik total population. Analisis data menggunakan regresi linear sederhana dan berganda. Hasil penelitian menunjukkan terdapat peran signifikan antara karakteristik kerja dan orientasi kewirausahaan terhadap komitmen organisasi karyawan generasi milenial Perusahaan X (R = 0.684; R² = 0.468; p < 0.05). Dimensi task identity pada karakteristik kerja dan inovatif pada orientasi kewirausahaan memiliki hubungan lebih besar pada komitmen dibandingkan dimensi lainnya, sedangkan dimensi autonomy pada kedua variabel memiliki hubungan lebih kecil pada komitmen. Hasil tambahan yaitu usia dan jenis kelamin menjadi faktor lain yang mempengaruhi komitmen organisasi.
References
Acar, A. Z. (2012). Organizational culture, leadership styles and organizational commitment in Turkish logistics industry. Procedia-Social and Behavioral Sciences, 58,217 – 226
Agarwal, S., Sridhar N., & Ramaswari. (1997). Affective organizational commitment of sales people: an expanded model. Journal of Personal Selling & Sales Management, 13 (2), 59- 67.
Allen, & Meyer. (1996). Affective, continuance, and normative commitment to the organization: An examination of construct validity. Journal of Vocational Behavior, 49(3), 252–276.
Aydogdu, S., & Asikgil, B. (2011). An empirical study of the relationship among job satisfaction, organizational commitment and turnover intention. International Review of Management and Marketing, 1(3), 43-53.
Badan Pusat Statistik (2017). Keadaan Angkatan Kerja di Indonesia Agustus 2017. Diakses dari https://www.bps.go.id/publication/2017/11/30/0daa04d8d9e8e30e43a55d1a/keadaan-angkatan-kerja-di-indonesia-agustus-2017.html
Bonds, A.A. (2017). Employees' organizational Commitment and turnover intentions. (Thesis tidak diterbitkan), Program doktoral, Walden University.
Cameron, K., & Quinn, R. (1999). Diagnosing and changing organizational culture. Based on the competing values framework. New York.Covin, J.G., & Slevin, D.P. (1989). Strategic management of small firms in hostile and benign environments. Strategic Management Journal, 10(1), 75-87.
Covin, J. G., & Lumpkin, G. T. (2011). Entrepreneurial orientation theory and research: Reflections on a needed construct. Entrepreneurship Theory and Practice, 35(5),855-872.
De Clercq, D., & Rius, I. B. (2007). Organizational ommitment in Mexican small and medium sized firms: The role of work status, organizational climate,and entrepreneurial orientation. Journal of Small Business Management, 45(4), 467-490.
Deloite Millenial Survey (2018). Millennials' confidence in business, loyalty to employers deteriorate. Retrieved from https://www2.deloitte.com/tr/en/pages/about-deloitte/articles/millennialsurvey-2018.html
Hackman, J.R. & E.E. Lawler. (1971). Employee reactions to job characteristics. Journal of Applied Psychology, 55(3), 259 – 286.
Hackman, J. R., & Oldham, G. R. (1974). The Job Diagnostic Survey: An instrument for the diagnosis of jobs and the evaluation of job redesign projects.
Haughey, J. C. (2006). Should Anyone Say Forever?: On Making, Keeping, and Breaking Commitments. Wipf and Stock Publishers.
Heizman, K. E. (2019). The effect of workplace characteristics on millennial worker organizational commitment. (Thesis tidak diterbitkan), Program doktoral, University of Winsconsin.
Hershatter, A., & Epstein, M. (2010). Millennials and the world of work: An organization and management perspective. Journal of Business and Psychology, 25(2), 211-223.
Kapoor,C & Solomon, N. (2011), Understanding and managing generational differences in the workplace. Worldwide Hospitality and Tourism Themes, Vol.3 Issue:4, pp. 308 – 318.
Kusluvan, S., Kusluvan, Z., Ilhan, I., & Buyruk, L. (2010). The human dimension: A review of human resources management: Issues in the tourism and hospitality industry. Cornell Hospitality Quarterly, 51(2), 197.
Langton, N., Robbins, S. P., & Judge, T. A. (2015). Organizational Behaviour: Concepts, Controversies, Applications. (Seventh Ed). Pearson Canada.
Lub, X., Bijvank, M.N., Bal, P.M., Blomme, R., & Schalk,R., (2012). Exploring the psychological contract and commitment of different generations of hospitality workers. International Journal of Contemporary Hospitality Management, 24(4), 553-573.
Lumpkin, G.T., & Dess, G.G. (2005). The role of entrepreneurial orientation in stimulating effective corporate entrepreneurship. Academy of Management Executive, 19(1), 147-156.
Marsden, P. V., Kalleberg, A. L., & Cook, C. R. (1993). Gender differences in organizational commitment: Influences of work positions and family roles. Work and Occupations, 20(3), 368-390.
Martin, C. A. (2005). From high maintenance to high productivity. Industrial and Commercial Training, 37(1), 39-44.
Mercurio,Z.A. (2015).Affective commitment as a core essence of organizational commitment: An integrative literature review. Human Resource Development Review, 14(4), 389-414.
Meyer, J.P., & Allen, N.J. (1991). A three component conceptualization of organizational commitment. Human Resource Management Review, 1, 61-98.
Meyer, J. P., Allen, N. J., & Smith, C. A. (1993). Commitment to organizations and occupations: Extension and test of a three component conceptualization. Journal of Applied Psychology, 78(4),538.
Mottaz, C. J. (1988). Determinants of Organizational Commitment. Human Relations, 41(6), 467–482.
Mowday, R. T., Porter, L. W., & Steers, R. M. (1982). Employee organization linkages. San Diego, CA: Academic Press
Obi-Nwosu, H., Chiamaka, J., & Tochukwu, (2013). Job characteristics as predictors of organizational commitment among private sector workers in anambra state, Nigeria. International Journal of Asian Social Science, 3(2), 482-491.
Ozturk, A. B., Hancer, M., & Im, J. Y. (2014). Job characteristics, job satisfaction, and organizational commitment for hotel workers in Turkey. Journal of Hospitality Marketing & Management, 23(3), 294-313.
Paur, C. P., Costa, D. S., & Germain, J. S. (2018). Organizational strategies for engaging and retaining millennial employees. Retrieved from https://digitalcommons.wpi.edu/mqpall/1336
Priherdityo, E. (2016, December 15). CNN Indonesia. Retrieved from https://www.cnnindonesia.com/gaya hidup/20161215174236-277 179907/milenial-generasi-kutu loncat-pengubahgaya-kerja, tanggal 12 September 2019
Putra, G.R. & Raharso, S. (2019). Pengaruh Karakteristik Pekerjaan Terhadap Keterikatan dalam Pekerjaan Pada Maskapai Penerbangan Indonesia. Jurnal Riset Bisnis dan Investasi, 5 (2), 28-38.
Rini, K.G.G.P. & Indrawati, K.R. (2019). Hubungan antara work-life balance dengan komitmen organisasi perempuan Bali yang bekerja pada sektor formal. Jurnal Psikologi Udayana, Edisi Khusus Kesehatan Mental, 153-164.
Salman, G. (2019, May 2). Mengapa Pekerja Melinial Cepat Resign dari Perusahaan. Retrieved from https://surabaya.kompas.com/read/2019/05/02/20125571/mengapa-pekerjamilenial-cepat-resign-dari- perusahaan?page=all, pada tanggal 12 September 2020
Satriya, M. G. R. (2018). Pengaruh komitmen organisasi terhadap intensi turnover dengan individual corporate entrepreneurship sebagai variabel mediator pada karyawan PT. SMB. (Thesis yang tidak diterbitkan), Program Doktoral, Universitas Airlangga, Surabaya.
Silva, L. P. D., Castro, M. A. R., Dos- Santos, M. G., & Lima Neto, P. J. D. (2018). Commitment to work and its relationship with organizational culture mediated by satisfaction. Review of Bussiness Management, 20(3), 401-420.
Statistik, B. P. (2018). Statistik gender tematik: Profil generasi milenial indonesia. Kementerian Pemberdayaan Perempuan dan Perlindungan Anak.
Sypniewska, B. (2013). Evaluation of factors influencing job satisfaction. Contemporary Economics, 8(1), 57-118.
Umoh, G. I., Amah, E., & Wokocha, I. H. (2014). Employee benefits and continuance commitment in the Nigerian manufacturing industry. IOSR Journal of Business and Management, 16(2), 69-74.
Van Muijen, J. J. (1999). Organizational culture: The focus questionnaire. European Journal of Work and Organizational Psychology, 8(4), 551-568.
Wiradinata, M. (2013). Analisis budaya organisasi pada perusahaan alas kaki. Agora, 1(1), 235-244.
Yulianti, P., & Arifien, F. P. (2019). Innovative behavior on millennials: Antecedent proactive personality and task conflict with moderating job autonomy. Jurnal Manajemen & Pemasaran Jasa,12(2),177- 190.
Zhang, H., Zhang, T., Cai, H., Li, Y., Wei Huang, W., & Xu, D. (2014). Proposing and validating a five-dimensional scale for measuring entrepreneurial orientation: An empirical study. Journal of Entrepreneurship in Emerging Economies, 6(2), 102-121.
Zehir, C., Müceldili, B., & Zehir, S. (2012). The impact of corporate entrepreneurship on organizational citizenship behavior and organizational commitment: Evidence from Turkey SMEs. Procedia-Social and Behavioral Sciences, 58,924-933.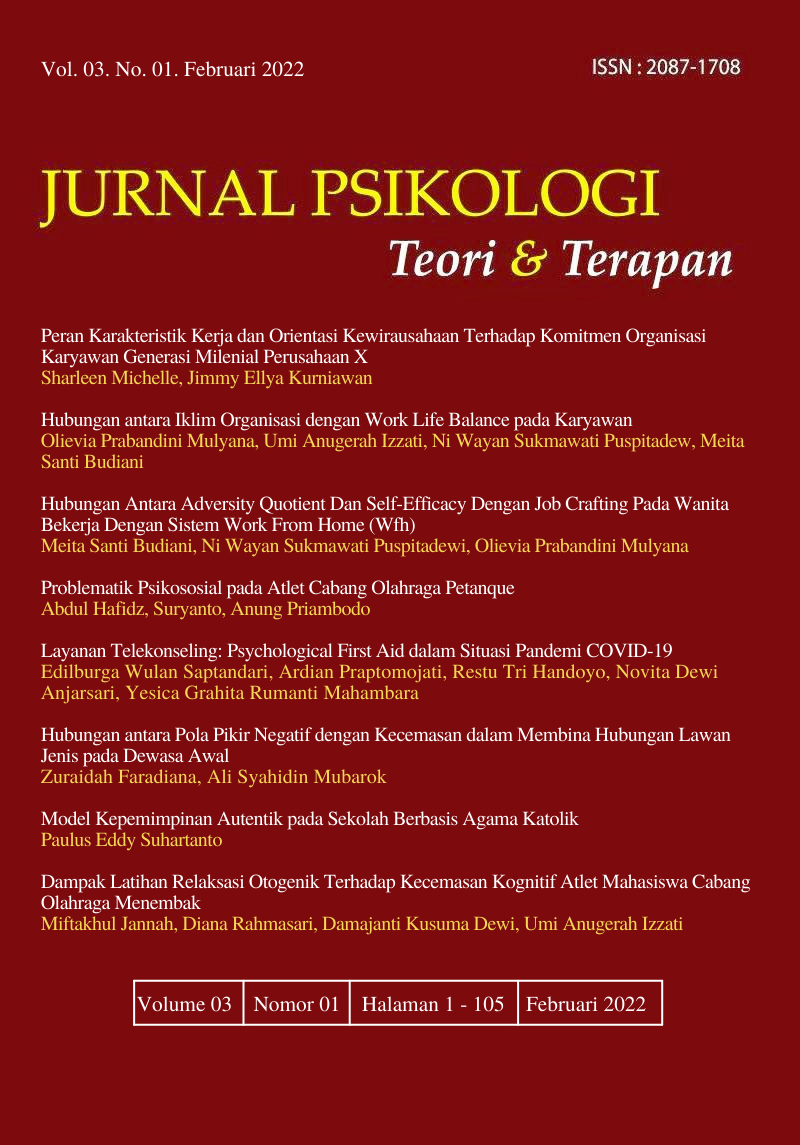 Downloads
License
This work is licensed under a Creative Commons Attribution-NonCommercial 4.0 International License.
Authors who publish with this journal agree to the following terms:

Abstract views: 122 ,

PDF Downloads: 304