HUBUNGAN ANTARA IKLIM ORGANISASI DENGAN SUBJECTIVE WELL-BEING PADA KARYAWAN DI PERUSAHAAN X
Keywords:
Iklim organisasi, subjective well-being, karyawan
Abstract
Subjective well being (SWB) is one of important thing in humans life because it may correlate with higher productivity and a good social relationship. SWB is individuals evaluation of their experience for the whole picture or each domain of life including their satisfaction and feeling. For adult, work domain take most of the time each day. That is why situation at work might affect their evaluation. Evaluation at working situation called organizational climate. The aim of this paper is to investigate the correlation between organizational climate and subjective well being among employees. This study utilized quantitative approach with correlational design. Total number of the subject was 63 employees from X company who were selected using  population cluster sampling technique. Data collection tool was adapted from LSOCQ, SWLS and SPANE. Result showed that there was a positive correlation between organizational climate and subjective well-being among X companys employees (r = 0.623, p = 0.000; r = 0.434, p = 0.000). Finding showed that employee who work in a good organization climate have a good subjective well-being. Finding also show that gender, age, income, status and education were believed to have a correlation with SWB on employees.
Abstrak: Subjective well being (SWB) adalah hal penting yang ingin dicapai dalam kehidupan karena dapat meningkatkan produktivitas dan hubungan sosial yang baik. SWB merupakan evaluasi kepuasan dan afeksi individu terhadap pengalaman hidup mereka baik secara keseluruhan maupun per domain kehidupan. Domain yang memakan waktu paling banyak dalam kehidupan manusia dewasa adalah domain kerja. Evaluasi individu terhadap domain pekerjaannya disebut iklim organisasi. Oleh karena itu diduga bahwa iklim organisasi dapat mempengaruhi tingkat SWB karyawan. Tujuan dari penelitian ini adalah mengetahui hubungan antara iklim organisasi dengan SWB karyawan. Penelitian menggunakan pendekatan kuantitatif dengan desain korelasian. Subjek terdiri dari 63 karyawan perusahaan X dan dipilih menggunakan cluster sampling. Alat ukur iklim organisasi menggunakan LSOCQ sementara SWB menggunakan SWLS dan SPANE. Hasil menunjukan ada korelasi positif antara iklim organisasi dengan SWB (r = 0.623, p = 0.000 ; r = 0.434, p= 0.000). semakin baik iklim di suatu organisasi maka semakin tinggi SWB karyawan dan begitu sebaliknya.
References
Affandi, H. (2002). Pengaruh iklim organisasi terhadap kepuasan kerja, komitmen dan kinerja pegawai (studi kasus pada pegawai di lingkungan pemerintah Kota Semarang). Program Studi Magister Manajemen Universitas Diponegoro, Semarang.

Alfian, G.(2012). Pengaruh kepemimpinan terhadap kepuasan kerja dan produktivitas kerja karyawan pada PT. Taspen (PERSERO) cabang Yogyakarta. Program Studi Akuntansi Universitas Negeri Yogyakarta, Yogyakarta.

Ariati, J. (2010). Subjective well-being (kesejahteraan subjektif) dan kepuasan kerja pada staf pengajar (dosen) di lingkungan fakultas psikologi Universitas Diponegoro. Jurnal Psikologi Undip, 8(2), 117-123.

Azwar, S.D. (2005). Metode penelitian.Yogyakarta: Pustaka Belajar.

Azwar, S.D.(2007). Tes prestasi fungsi dan pengembangan pengukuran prestasi belajar. Yogyakarta: Pustaka Belajar

Azwar, S.D. (2008). Penyusunan skala psikologi. Yogyakarta: Pustaka Belajar.

Baumgardner, S. R., & Crothers, M. K. (2010). Positive psychology. New Jersey: Pearson Education, Inc.

Boehm, J.K. & Lyubomirsky, S. (2008). Does happiness promote career success? Journal of Career Assesment, 16(1), 101-116.

Compton, W. (2005). Introduction to positive psychology. Belmont: Thomson Learning Academic Resource Center.

Dewi, P., & Utami, M. (2013). Subjective well-being anak dari orang tua yang bercerai. Jurnal Psikologi, 35(2), 194-212.

Diener, E. (1984). Subjective well being. Pschological Bulletin, 95(3), 542-575.

Diener, E. (2000). Subjective well-being: the science of happiness and proposal for a national index. American Psychologist, 55(1), 34 -43.

Diener, E., Wirtz, D., Diener, R.B., Tov, William., Prieto, C.K., Choi, D.W.,Oishi,S.(2009).New measures of well-being. Social Indicators ResearchSeries 39,247 -248.

Diener & Larsen. (1985). Intensity and frequency: dimensions underlying positive and negatif affect. Journal of Personality and Social Psychology, 48(5), 1253-1256.

Diener, E & Myers, D.G. (1995). Who is happy? Psychological Science, 6(1),10-19.

Diener, E., Suh, E. M., Lucas, R. E., & Smith, H. L. (1999). Subjetive well-being: three decades of progress. Psychological Bulletin, 125(2), 276-302.

Eddington, N. & Shuman, R. (2005). Subjective well being (happiness). Continuing psychology education: 6 continuing education hours. Diunduh pada 10 November 2014 dari http://www.texcpe.com/cpe/PDF/a-happiness.pdf.

Feist, J & Feist, G.J (2010). Teori kepribadian, theories of personality.(7th ed).Jakarta : Salemba Humanika

Gatari, E. (2008). Hubungan antara perceived social support dengan subjective well-being pada ibu bekerja. Program Studi Pascasarjana Universitas Indonesia, Depok.

Goodwin, R. & Plaza, S.H. (2000). Perceived and received social support in two cultures: collectivism and support among British and Spanish students. Journal of Social andPersonal Relationship, 17, 282-291.

Handayani, S. (2011). Hubungan antara self-esteem dengan subjective well being karyawan UIN Syarif Hidayatullah Jakarta. Program Studi Pascasarjana Universitas Islam Negeri Syarif Hidayatullah, Jakarta.

Hardjana, A. (Juni 2006). Iklim organisasi: lingkungan kerja manusiawi. Jurnal Ilmu Komunikasi, 3(1), 1-36.

Hasrian, N. (2009). Pengaruh iklim terhadap kepuasan kerja studi kasus: sekolah menengah atas negeri (SMAN) A kota Depok Provinsi Jawa Barat. Program Studi Sarjana Reguler Manajemen Universitas Indonesia, Depok.

Holloway, J. B. (2012). Leadership behavior and organizational climate: an empirical study in a non-profit organization. Emerging Leadership Journeys, 5(1), 9-35.

Tsai Chen Li. (2008).Accessing organizational climate and leadership as a means to evaluate potential for organizational change. The Journal of Human Resource and Adult Learning, 4(1), 47-56.

Mubiono, D. (2010). Pengaruh iklim organisasi, karakteristik kerja, komitmen karyawan dan kepuasan kerja terhadap perfomansi kerja karyawan di PDAM Surya Sembada Kota Surabaya. Program Pascasarjana Universitas Pembangunan Nasional, Surabaya.

Muhadi. (2007). Analisis pengaruh kepuasan kerja terhadap komitmen organisasional dalam mempengaruhi kinerja karyawan (studi pada karyawan administrasi Universitas Diponegoro). Program Pascasarjana Universitas Diponegoro, Semarang.

Mujamiasih, M. (2013). Subjective well-being (SWB) : studi indigenous pada pns dan karyawan swasta yang bersuku Jawa di pulau Jawa. Program Pascasarjana Universitas Negeri Semarang, Semarang.

Nayana, F. (2013). Kefungsian keluarga dan subjective well-being pada remaja. Jurnal Ilmiah Psikologi Terapan, 1(2), 230-244.

Ningsih, D. (2013). Subjective well-being ditinjau dari faktor demografis (status pernikahan, jenis kelamin, pendapatan). Jurnal Online Psikologi, 1(2), 581-603.

Novliadi, F. (2007) Intensi turnover karyawan di tinjau dari budaya perusahaan dan kepuasan kerja. Program Pascasarjana Universitas Sumatera Utara,Medan.

Page, K. (2005). Subjective wellbeing in the workplace. Bachelor Degree Faculty of Health and Behavioural Science Deakin University, Melbourne.

Pujiati, S.A & Rusliah, N. (n.d.). Penggunaan R dalam Psikologi. Berbagi.Net Academic Publisher.

Rego, Armenio & Cunha, Miguel P. E. (2008). Authentizotic climates and employee happiness: pathways to individual performance? Journal of Business Research, 61(7), 739-752.

Reksoatmodjo,T.N.(2009). Statistika untuk psikologi dan pendidikan. Bandung: PT. Retika Aditama.

Rufaedah, Any. (2012). Hubungan antara self construal dan subjective well being pada etnis Jawa. Program Pascasarjana Universitas Indonesia, Depok.

Ruswanti, Rosita & Januarko. (2013). Aplikasi teori kebutuhan ERG Alderfer terhadap motivasi karyawan rumah sakit Islam Hidayatullah Yogyakarta. Forum Ilmiah, 10 (2), 166-171.

Ryan, R. M., & Deci, E. L. (2001). On happiness and human Potentials; a review of research on hedonic and eudaimonic well-being. Annual Review Psychology, 141-166.

Suharto dan Budi Cahyono. (2005), Pengaruh budaya organisasi, kepemimpinan dan motivasi kerja terhadap kinerja sumber daya manusia, di sekretariat DPRD Propinsi JawaTengah, JRBI, 1 (1), 13-30.

Suyanto. (2012, Februari 27). Karyawan konflik, PT Freeport hentikan operasional. Surya Online. Diunduh dari http://surabaya.tribunnews.com/2012/02/07/karyawankonflik-ptfreeport-hentikan-operasional
Triawan & Sumaryono. (2008). Kecenderungan perilaku pengambilan resiko dengan minat wirausaha. Psikologika Edisi, 26 (13), 22-27.

Venhooven R. (2009). World database of happiness tool for dealing with the œdata-deluge. Psychological Topic, 18(2), 221-246.

Wibisono, A. (2008). Pengaruh iklim organisasi terhadap kepuasan kerja (studi tentang pengaruh iklim organisasi terhadap kepuasan kerja pegawai puskesmas Turen di Malang. Jurnal Aplikasi Manajemen, 9(3), 1000-1010.

Yoo, S. J., Huang, W. H., & Lee, D. Y. (2012). The impact of employee's perception of organizational climate on their techonology acceptance toward e-learning in South Korea. Knowledge Management & E-Learning : An International Journal, 4(3), 359-378.

Yuliana, E. (2007). Hubungan antara iklim organisasi dan kualitas pelayanan pada karyawan McDonald's Java Semarang. Program Pascasarjana Universitas Diponegoro, Semarang.

Yus. (2011, Juli 7). Konflik antar karyawan di Freeport pengaruhi produksi tambang emas. Rima News. Diunduh dari http://www.rimanews.com/read/20110707/33919/konflik-antarkaryawan-di-freeport-pengaruhi-produksi-tambang-emas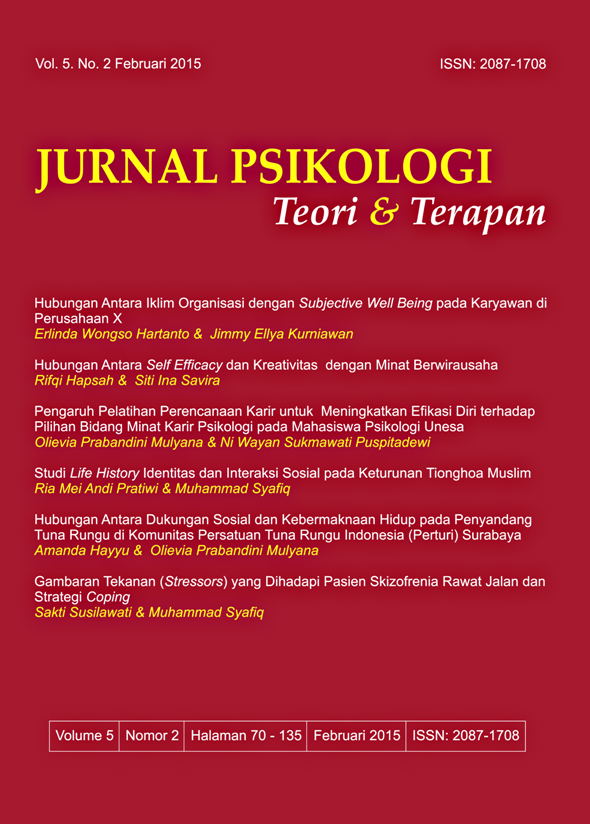 Downloads
How to Cite
Hartanto, E. W., & Kurniawan, J. E. (2015). HUBUNGAN ANTARA IKLIM ORGANISASI DENGAN SUBJECTIVE WELL-BEING PADA KARYAWAN DI PERUSAHAAN X. Jurnal Psikologi Teori Dan Terapan, 5(2), 70–80. https://doi.org/10.26740/jptt.v5n2.p70-80
License
Authors who publish with this journal agree to the following terms:

Abstract views: 2740 ,

PDF Downloads: 1941