HUBUNGAN POLA ASUH DAN EKSPRESI EMOSI KELUARGA DENGAN KEKAMBUHAN PASIEN SKIZOFRENIA DI RUMAH SAKIT JIWA MENUR SURABAYA
Keywords:
Pola asuh, ekspresi emosi, kekambuhan, skizofrenia.
Abstract
Schizophrenia is classified in severe mental disorders so that the possibility to recover from it is fairly minimal. Based on a study, 80% of schizophrenic patients experienced a relapse from schizophrenia and only about 20% of patients declared recovered on pre-morbid level (Arif, 2006). Many cases of relapse occurred when the patient returned to their family. Some studies suggest that the factor of interaction patterns within the family, such as parenting and emotional expression among the members of family, leads the patients to relapse. This study aims to determine the correlation between parenting and family emotional expression to the relapse of schizophrenic patients of Menur Mental Hospital, Surabaya. This study used a quantitative approach with a correlation method. The samples were 65 families of patients with schizophrenia who were treated at the Menur Mental Hospital, taken by purposive sampling technique. 35 samples are famillies of hospitalized patients and 30 samples are famillies of outpatient. Data analysed using binary logistic. The correlation between the variables measured using significant value of p <0.05 and the Odds Ratio (OR) with 95% Constant Interval (CI). The results shows a significant value of constant is 0.002,  a significant value of parenting is 0.001 and significant value of family emotional expression is 0.002. It means that there is a correlation between parenting and family emotional expression with relapse of schizophrenic patients. Family emotional expression was proven as the most variable responsible for the emergence of relapse which affect 16.9 times greater chance of relapse than other variable contribution.
Abstrak: Skizofrenia digolongkan dalam gangguan mental berat, sehingga kemungkinan untuk sembuh terbilang kecil. Berdasarkan hasil sebuiah penelitian, sebanyak 80% pasien skizofrenia mengalami kekambuhan berulang dan hanya sekitar 20% pasien dinyatakan pulih pada tingkat premorbid (Arif, 2006). Banyak kasus kekambuhan terjadi ketika pasien dikembalikan kepada keluarga. Beberapa penelitian menyebutkan bahwa faktor pola interaksi didalam keluarga menyebabkan kekambuhan, seperti pola asuh dan ekspresi emosi. Penelitian ini bertujuan untuk mengetahui hubungan pola asuh dan ekspresi emosi keluarga  dengan kekambuhan pasien di Rumah Sakit Jiwa Menur Surabaya. Penelitian ini menggunakan pendekatan kuantitatif dengan metode korelasional. Sampel adalah 65 keluarga dari pasien skizofrenia yang dirawat di Rumah Sakit Jiwa Menur, diambil dengan teknik purposive sampling. Sebanyak 35 sampel merupakan keluarga dari pasien rawat inap dan 30 sampel merupakan keluarga dari pasien rawat jalan di Rumah Sakit Jiwa Menur Surabaya. Analisis data menggunakan uji regresi logistik biner. Adanya hubungan antara variabel diukur dengan menggunakan nilai signifikan p<0,05 dan Odds Ratio (OR) dengan interval kepercayaan (CI) 95%. Hasil penelitian diperoleh nilai signifikan konstanta sebesar 0,002, nilai signifikan pola asuh sebesar 0,001 dan nilai signifikan ekspresi emosi keluarga sebesar 0,002. Hal tersebut berarti bahwa ada hubungan pola asuh dan ekspresi emosi keluarga dengan kekambuhan pasien skizofrenia. Ekspresi emosi keluarga merupakan variabel yang paling berperan terhadap munculnya kekambuhan karena memiliki peluang 16,9 kali lebih besar memunculkan kekambuhan dibandingkan dengan variabel yang lain.
References
Arif, S. I. ( 2006). Skizofrenia: Memahami Dinamika Pasien. Bandung: PT. Refika Aditam

Brooker, C. (2008). Ensiklopedia Keperawatan Churchill Livingstones Mini Encyclipedia Of Nursing, 1st Edition (Terjemahan). Jakarta : EGC Medical Publisher

World Health Organization (WHO). (2004). The World Report 2004 Statistical Annex (online).www.who.int/entity/whr/2004/annex/topic/en/annex_2_en.pdf. diakses tanggal 12 Novenver 2012.

Departemen Kesehatan Republik Indonesia. (1993). Pedoman Penggolongan Diagnosis Gangguan Jiwa (PPDGJ). Edisi III. Jakarta.

Erlina, Soewadi, & Pramono, D. (2010). Determinan Terhadap Timbulnya Skizofrenia Pada Pasien Rawat Jalan Di Rumah Sakit Jiwa Prof. HB Saanin Padang Sumatera Barat. Berita Kedokteran Masyarakat, 26 (2), 71-80.

Gunarsa, Y. S. D., & Gunarsa, S. D. (2000). Psikologi Praktis : Anak, Remaja, dan Keluarga. Jakarta : PT. BPK Gunung Mulya.

Lieberman, J. A., Stroup, T. S., & Perkins, D. O., (Editor). (2006). The American Psychiatric Publishing Textbook of Schizophrenia. USA : American Psychiatric Publishing, Inc.

Lora, A., Kohn, R., Levav, I., McBain, R., Morris, J., & Saxena, S. (2011). Service Availability And Utilization And Treatment Gap Schizophrenic Disorders: A Survey in 50 Low and Middle Income Countries (Online). www.who.int/bulletin/volumes/90/1/11-089284/en/. Diakses tanggal 13 November 2012.

Marchira, C. R., Sumarni P., & Lusia, P.W. (2008). Hubungan Antara Ekspresi Emosi Keluarga Pasien Dengan Kekambuhan Penderita Skizofrenia Di RS DR. Sardjito Yogyakarta. Berita Kedokteran Masyarakat, 24 (4), 172-175.

Parker, G., Johnston, P., & Hayward, L..(1990). Prediction of Scizophrenic Relapse Using The Parental Bonding Instrument (online). http://search.ebscohost.com/login.aspx?direct=true&db=mnh&AN=3178613&sit . Diakses tanggal 24 Oktober 2012.

Permanasari & Tunggal. (2010). Bicara tentang Jiwa Terpecah (online). http://health.kompas.com/read/2010/10/05/07092282/Bicara.tentang.Jiwa.Terpecah. Diakses tanggal 13 November 2012

Scholten. (2007). Risk Factor For Schizophrenia. Manchester : University of Manchester.

Soetjiningsih. (2004). Tumbuh Kembang Anak dan Permasalahannya. Jakarta : Sagung Seto

Sugiyono. (2009). Metode Penelitian Kuantitatif, Kualitatif dan R & D. Bandung : Alfabeta

Videbeck. (2001). Buku Ajar Keperawatan Jiwa (Terjemahan). Jakarta : Buku Kedokteran EGC

Wahyuning, Jash, & Rachmadiana. (2003). Mengkomunikasikan Moral Kepada Anak. Jakarta : PT. Elex Media Komputindo.

Yanayir. (2012). Karakteristik Faktor-Faktor yang Mempengaruhi Terjadimya Skizofrenia di Wilayah Kerja Puskesmas Pembantu Desa Paringan Kecamatan Jenangan Kabupaten Ponorogo (Skripsi). Ponorogo: Fakultas Ilmu Kesehatan Universitas Muhammadiyah Ponorogo.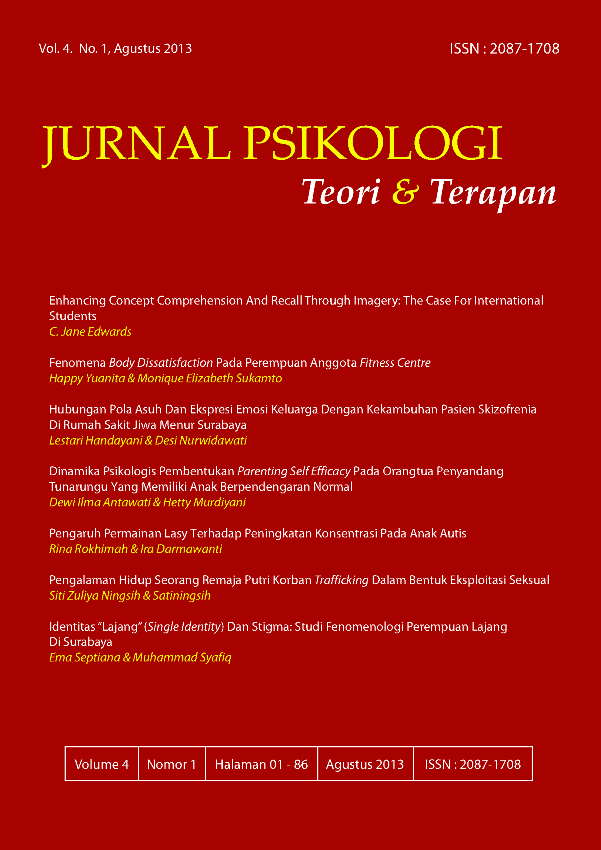 Downloads
License
Authors who publish with this journal agree to the following terms:

Abstract views: 2934 ,

PDF Downloads: 2450