KESULITAN PEMECAHAN MASALAH FISIKA PADA SISWA SMA
Keywords:
kesulitan siswa, pemecahan masalah fisika
Abstract
Telah dilakukan penelitian untuk mengidentifikasi kesulitan pemecahan masalah fisika pada siswa SMA. Penelitian ini menggunakan metode survey dengan menyebarkan angket. Responden terdiri dari 120 siswa yang berasal dari 3 sekolah yaitu, SMA Negeri 1 Bangil, SMA Negeri 8 Malang, dan SMA YADIKA Bangil. Dilakukan pula wawancara pada beberapa guru dan siswa. Berdasarkan hasil penyebaran angket, diperoleh 26% siswa mengalami kesulitan pada materi Suhu dan Kalor, 25% Optik, 21% Fluida Statik, 17% Elastisitas dan Hukum Hooke, dan 11% Kinematika. Kesulitan tersebut salah satunya disebabkan pembelajaran bagi siswa yang kurang maksimal dalam bentuk hands on activity. Sebanyak 88% siswa mengatakan bahwa pembelajaran fisika yang sering dialami adalah dengan metode ceramah. Siswa mengalami kesulitan belajar fisika dalam menyelesaikan permasalahan pada soal sebesar 32%, kesulitan memahami konsep dan rumus 26%, kesulitan menggunakan persamaan atau rumus dalam soal 18%, kesulitan menganalisis grafik dan gambar 17%, dan kesulitan menyimpulkan materi yang telah dipelajari 7%. Kesulitan tersebut terlihat ketika siswa memecahkan permasalahan pada soal kinematika serta suhu dan kalor. Diperoleh dari hasil angket, bahwa 76% siswa mengalami kesulitan dalam memecahkan permasalahan pada soal dengan alasan lupa atau tidak paham, sebesar 19% siswa kurang memahami solusi pemecahan masalah pada soal, dan hanya sebesar 5% siswa mampu memecahkan permasalahan pada soal.
References
National Research Council, National Science Education Standard. Washington DC: National Academy Press; 1996.

Mims C. Authentic Learning: A Practical Introduction & Guide for Implementation. A Middle School Computer Technologies Journal. 2003; 6(1).

Hoellwarth C, Moelter MJ, dan Knight RDA. Direct Comparison of Conceptual Learning and Problem Solving Ability in Traditional and Studio Style Classrooms. American Journal of Physics. 2005; 73: 459.

Redish EF. Changing Student Ways of Knowing: What Should Our Students Learn in a Physics Class?. Proceedings of World View on Physics Education 2005: Focusing on Change. Singapore: World Scientific Publishing Co.; 2005.

Ogilvie CA. Changes in Students Problem Solving Strategies in a Course That Includes Context-Rich, Multifaceted Problems. Physical Review Special Topics - Physics Education Research. 2009; 5, 020102.

Walsh LN, Howard RG, dan Bowe B. Phenomenography Study of Students Problem Solving Approach in Physics. Physics Education Research. 2007; 1: 12.

Brad A. A Study of The Problem Solving Activity in High School Student: Strategies and Self-Regulated Learning. Acta Didactica Napocensia. 2011; 21: 30.

Ogunleye AO. Teacher and Student Perception of Student Problem Solving Difficulties in Physics: Implication for Remidion. Journal of College Teaching & Learning. 2009; 85: 90.

Ikhwanuddin JA dan Purwantoro D. Problem Solving dalam Pembelajaran Fisika untuk Meningkatkan Kemampuan Mahasiswa Berpikir Analitis. Jurnal Kependidikan. 2010; 14: 16.

Sebayang, P. Fisikawan Gampang Dibajak Pemerintah Kurang Perhatian. Pusat Pelatihan Fisika LIPI. Terdapat pada: http://www.fisika.lipi.go.id/in/?q=node/392518; 2011.

Hardhienata H. Kenapa Fisika Menjadi Momok. Bandung. Alfabeta; 2007.

Sozbilir M. A Review of Selected Literature On Students Misconception of Heat And Temperature. Bogazia University Journal of Education. 2003; 20(1): 25-41.

Baser M. Effect of Conceptual Change Oriented Instruction on Students Understanding of heat and Temperature Concept. Journal of Maltese Education Research. 2006; 4(1): 64-79.

Dimyati M. Belajar Dan Pembelajaran. Rineka Cipta : Jakarta; 2006.

Widdiharto. Diagnosis Kesulitan Belajar Matematika SMP dan Alternatif Proses Remidinya. Yogyakarta: Depdiknas; 2008.

Wiyanto. Terjebak rutinitas, Fisika jadi membosankan. Terdapat pada: http://www.fisikanet.lipi.go.id/utama.cgi?artikel&1262401114; 2009.

Jiwanto, Ikhbar Nur. Analisis Kesulitan dalam Memecahkan Masalah Fisika Menurut Polya. Tesis tidak diterbitkan. Malang: Program Studi Pendidikan Fisika Pascasarjana Universitas Negeri Malang; 2012.

Rusman. Model-Model Pembelajaran Mengembangkan Profesionalisme Guru. Jakarta: PT Raja Grafindo Persada; 2011.

Brok PD, Taconis R dan Fisher D. How well Do Science Teacher Do? Differences in Teacher-Student Interpersonal Behavior Between Science Teachers and Teachers of Other (School) Subjects. The Open Education Journal. 2010; 3: 44-53.

Hakim T. Belajar Secara Efektif. Jakarta: Puspa Swara; 2005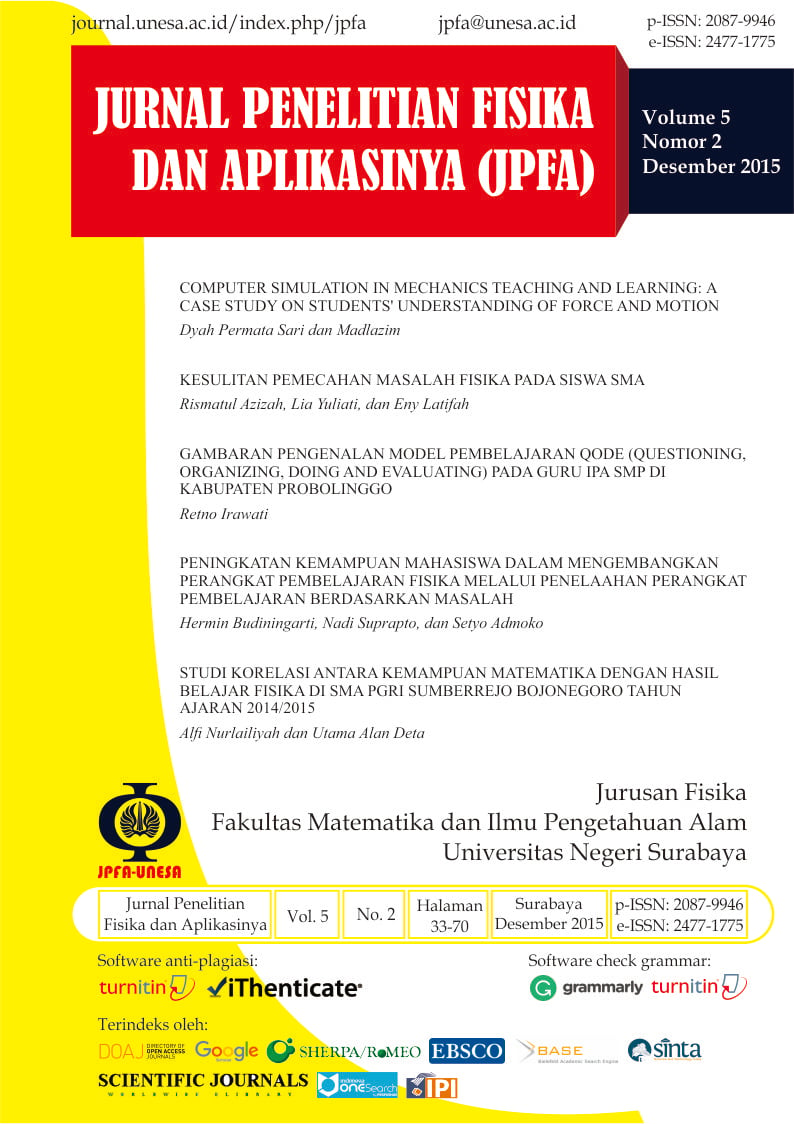 Downloads
How to Cite
Azizah, R., Yuliati, L. and Latifah, E. (2015) "KESULITAN PEMECAHAN MASALAH FISIKA PADA SISWA SMA", Jurnal Penelitian Fisika dan Aplikasinya (JPFA), 5(2), pp. 44–50. doi: 10.26740/jpfa.v5n2.p44-50.
License
Author(s) who wish to publish with this journal should agree to the following terms:
Author(s) retain copyright and grant the journal right of first publication with the work simultaneously licensed under a Creative Commons Attribution-Non Commercial 4.0 License (CC BY-NC) that allows others to share the work with an acknowledgement of the work's authorship and initial publication in this journal for noncommercial purposes.
Author(s) are able to enter into separate, additional contractual arrangements for the non-exclusive distribution of the journal's published version of the work (e.g., post it to an institutional repository or publish it in a book), with an acknowledgement of its initial publication in this journal.
The publisher publish and distribute the Article with the copyright notice to the JPFA with the article license CC-BY-NC 4.0.

Abstract views: 14813 ,

PDF Downloads: 25401