KEKERASAN PSIKO-SOSIAL DALAM PENDIDIKAN DAN KENISCAYAAN BIMBINGAN KONSELING
Keywords:
Konselor, matriarki, patriarki, kekerasan
Abstract
Violence in any form and reason specifically in educational setting will affects every individual. Teachers should be aware that violence has historical cycle in society, community, even in individual levels. Based on the consideration, this paper tries to: 1) understand the root of violence, its values and its personal and social characteristics; 2) recognize the social characteristics of patriarchy and matriarchy in educational setting, and the necessity for counselors of having matriarchal communication styles; and 3) assert the importance of school counselors to equip themselves with balanced, empathic, and mutual communication. This paper concludes that the root of violence is not inherent in human nature but socially learned and inherited. Secondly, matriarchal characteristics in social relations are needed to prevent violence. Third, school counselors should equip themselves with mutual
communications.
Abstrak: Kekerasan bentuk apapun, dalam latar manapun, khususnya dalam dunia pendidikan, membawa dampak merugikan bagi banyak pihak. Para pendidik perlu menyadari bahwa kekerasan memiliki siklus historis baik pada kesatuan sosial terbesar, komunitas terbatas, maupun individu. Atas dasar itu, tujuan kajian ini adalah: pertama, mengenali 'akar kekerasan', sifat personal, sifat sosial, dan nilai yang dikandungnya untuk dapat dipahami dan dikelola; kedua, mengenali keberadaan sifat-sifat sosial patriarki dan matriarki dalam institusi pendidikan, serta bagaimana keniscayaan komunikasi konselor di bawah sifat matriarki; ketiga, pentingnya konselor/Guru Bimbingan Konseling (BK) melengkapi diri dengan komunikasi berimbang, empatik, saling berbagi, dan saling memenuhi kebutuhan. Setelah melalui kajian konseptual, tulisan ini menyimpulkan bahwa: pertama, 'akar kekerasan' adalah tidak melekat pada hakekat manusia, melainkan terkandung dalam sifat sosial yang dipelajari dan diwariskan secara sosial; kedua, keberadaan sifat sosial dan sifat matriarki (pengganti yang patriarki) adalah niscaya adanya untuk mencegah kekerasan; dan ketiga, konselor perlu melengkapi diri dengan komunikasi berimbang.
References
Berger, P. (1985). Humanisme Sosiologi. (Edisi Terjemahan). Jakarta: Inti Sarana Aksara.

Boeree, C. G. Online. (2002). ˜Erich Fromm (19001980). Diakses dari http://www.ship.edu/~cgboeree/fromm.htm1 pada 15 Januari 2002.

Boeree, C. G. (2006). ˜Personality Theories. Diakses dari http://webspace.ship.edu/cgboer/ conclusions.html pada tgl. 20 Desember 2006.

Fromm, E. (2001). Akar Kekerasan: Analisis Sosio-Psikologis atas Watak Manusia. (Edisi Terjemahan). Yogyakarta: Pustaka Pelajar.

Fromm, E. (2002a). Cinta, Seksualitas, Matriarki Gender. (Edisi Terjemahan). Yogyakarta: Penerbit Jalasustra.

Fromm, E. (2002b). Manusia Menjadi Tuhan: Pergumulan antara ˜Tuhan Sejarah dan ˜Tuhan Alam. (Edisi Terjemahan). Yogyakarta: Jalasustra.

Fromm, E. (2004). ˜Theory of Aggression dalam ˜The Literary Estate of

Erich Fromm c/o Rainer Funk. Diakses dari http://www.erich-fromm.de/data/pdf/1972c-e.pdf pada 14 Agustus 2007.

Fromm, E. Online. (2007). ˜The Nature of Violence dari ˜Essay for Colliers Year Book. Diakses dari http://encarta.msn.com/sidebar_461511329/the_nature_of_violence_ by_eric_fromm.html, pada 14 Agustus 2007.
Gerhardt, J., Sweetnam, A., & Borton, L. (2000). ˜The Intersubjective

Turn in Psychoanalysis: A Comparison of Contemporarry Theorists, Psychoanalytic Dialogues, 10(1), 5 42.

Hansen, D., (1969). Explanation in Sociology and Counseling (Eds). Boston: Houghton Fifflin Company.

Heryanto, A., (1993). ˜Discourse and State-Terorism: a Case Study of Political Trials in New Order Indonesia 19891990. A Thesis subbmitted for the degree of doctor of philosophy in the Departement of Anthropology Monash University, Australia.

Kellner, D. (2003a). ˜Erich Fromm Biography. Diakses dari http://www.uta.edu/huma/illuminations/kell8.html pada 25 November 2003.

Kellner, D. (2003b). ˜Erich Fromm, Feminism, and the Frankfurt School. Diakses dari http://www.uta.edu/huma/illuminations/kell8.html pada 25 November 2003.

Kellner, D. (2003c). Critical Theory and Crisis of Social Theory. Diakses dari http://www.uta.edu/huma/illuminations/kell8.html pada 25 November 2003.

Kellner, D, (2003d). Teori Sosial Radikal (Eds). Edisi Indonesia (EkoRindang Farihach), Yogyakarta: Syarikat.

Leigh, B., (1999). "Learning and Knowing Boundaries: Schooling in New Order Indonesia", SOJOURN, 14 (1), 34-56.

Mappiare-AT, A., (2009). Identitas Religius di Balik Jilbab: Perspektif Sosiologi Kritik. Malang: Penerbit Universitas Negeri Malang (UM Press).

Monte, C. F., (1995). Beneath the Mask: An Introduction to Theory of Personality. For Worth, Philadelphia: Harcourt Brace College Publishers.

O'Neill, J. (2001). Psychoanalysis and sociology: From freudo-marxism to freudo-feminism. In G. Ritzer, & B. Smart (Eds.). Handbook of social theory. (pp. 112-125). London: SAGE Publications Ltd. doi: http://dx.doi.org/10.4135/9781848608351.n10.

Saxton, L., (1968). The Individual Marriage, and the Family. Belmont, CA.: Wodsworth Publishing Company Inc.

Tindall, J. A., & Gray, H. D., (1987). Peer Power: Becoming An Effective Peer Helper, Book 1: Introductory Program. Muncie, Indiana: Accelerated Developmment, Inc.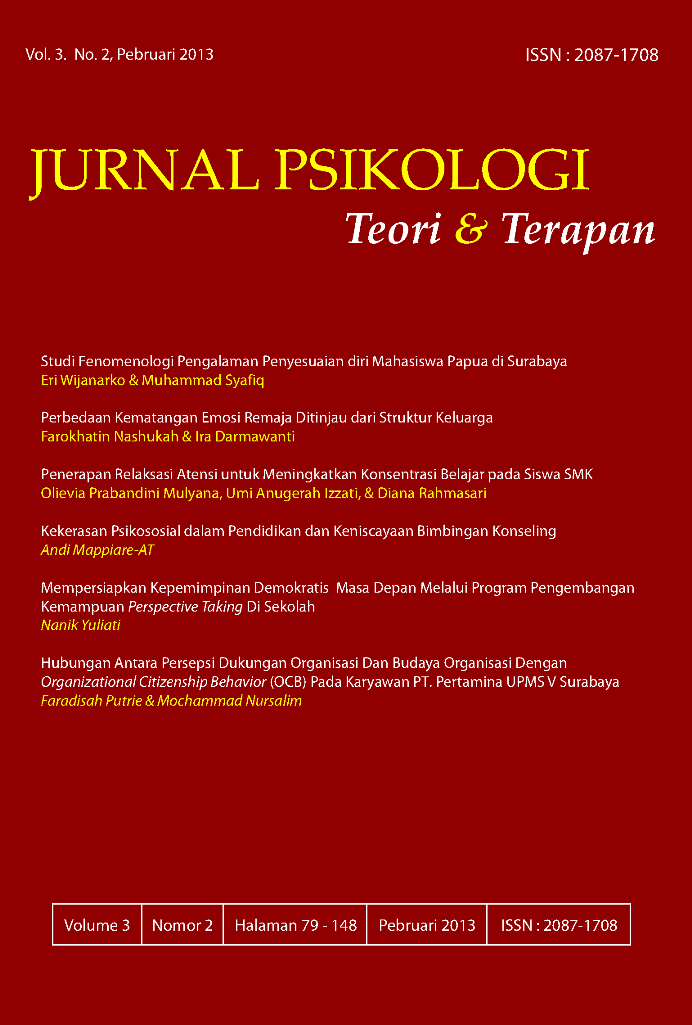 Downloads
How to Cite
Mappiare-AT, A. (2013). KEKERASAN PSIKO-SOSIAL DALAM PENDIDIKAN DAN KENISCAYAAN BIMBINGAN KONSELING. Jurnal Psikologi Teori Dan Terapan, 3(2), 113–124. https://doi.org/10.26740/jptt.v3n2.p113-124
License
Authors who publish with this journal agree to the following terms:

Abstract views: 1217 ,

PDF Downloads: 1451