PENINGKATAN KETERAMPILAN BERBICARA PADA MAHASISWA MELALUI PROGRAM SAMA SAVI (SATU MAHASISWA SATU VIDEO)
Kata Kunci:
speaking skills, indonesian, video
Abstrak
Student speaking skills are not all adequate and according to linguistic and non-linguistic  rules. To speak correctly, well, and beautifully, recorded and uploaded on Youtube, students experience obstacles, such as being unfamiliar, afraid, insecure, and do not know linguistic aspects and non-linguistic aspects to speak right, good, and beautiful. In linguistic aspects consist of correctness of speech, placement of pressure, tone, joint, and relevant duration, diction / choice of words and accuracy of target speech. Whereas the non-linguistic aspects consist of calm, honest, and not rigid attitudes, views directed at followers, willingness to respect the opinions of others, proper gestures and gestures, sound loudness, fluency, relevance / reasoning, and mastery of topics. One Student, One Video (SAMA SAVI) program has been proven to improve the speaking skills of students of the Islamic Education (PAI) Study Program of STAINU Temanggung. Before the action, speaking skills in the aspects of linguistic and non-linguistic aspects of students were inadequate. After the actions of cycle I and cycle II, there was a significant increase in students speaking skills, both from linguistic and non-linguistic aspects. In the process of implementing this program, researchers experienced seven obstacles as well as seven opportunities to improve speaking skills for students
Referensi
Ahmadi, Farid; Ibda, Hamidulloh. 2018. Media Literasi Sekolah (Teori Dan Praktik). 1st ed. Semarang: CV. Pilar Nusantara.
Aqib, Zaenal. 2007. Peneliti Tindakan Kelas. 3rd ed. Bandung: CV. Yrama Widya.
Hidayati, Atie. 2018. œPeningkatan Keterampilan Berbicara Melalui Pendekatan Komunikatif Kelas V SD Padurenan II Di Bekasi Tahun Pelajaran 2016/2017. Jurnal Ilmiah Pendidikan Dasar V: 8395. http://jurnal.unissula.ac.id/index.php/pendas/article/download/3134/2272.
Kunandar. 2010. Langkah Mudah Penelitian Tindakan Kelas Sebagai Pengembangan Profesi Guru. 5th ed. Jakarta: PT. Rajagrafindo Persada.
Lirola, María Martínez. 2017. œIntroducing Education Based On Human Rights In Higher Education: Examples From A Language Subject. International Journal of Education 9: 8288. http://ejournal.upi.edu/index.php/ije/article/view/5461.
Merdeka.com. 2019. œBikin Video Hasutan Dan Ujaran Kebencian, Seorang Warga Cirebon Ditangkap. Merdeka.Com, May 2019. https://www.merdeka.com/peristiwa/bikin-video-hasutan-dan-ujaran-kebencian-seorang-warga-cirebon-ditangkap.html.
Movanita, Ambaranie Nadia Kemala. 2017. œ11 Kasus Ujaran Kebencian Dan Hoaks Yang Menonjol Selama 2017. Kompas.Com, December 2017. https://nasional.kompas.com/read/2017/12/24/23245851/11-kasus-ujaran-kebencian-dan-hoaks-yang-menonjol-selama-2017.
Nurzanah, Dewi. 2014. œPeningkatan Keterampilan Berbicara Melalui Penerapan Metode Video Critic Pada Siswa Kelas V MI Nurul Islam. Universitas Islam Negeri (UIN) Syarif Hidayatullah. http://repository.uinjkt.ac.id/dspace/bitstream/123456789/25386/1/dewi nurjanah-fitk.pdf.
Purwanti. 2012. œPeningkatan Keterampilan Berbicara Melalui Media Video Dokumenter ˜Riwayat TRANSTV Pada Siswa Kelas VII SMP N 2 Gondang Sragen. Universitas Negeri Yogyakarta. https://eprints.uny.ac.id/8413/.
Rahman, Taufiqur. 2018. Aplikasi Model-Model Pembelajaran Dalam Penelitian Tindakan Kelas. Edited by Khamim Saifuddin. 1st ed. Semarang: CV. Pilar Nusantara.
Satenaw, Mebratu Mulatu Bachore; Amare. 2018. œAn Investigation Into The Extent And Challenges Of Assessing Students Speaking Skills In Selected Secondary Schools: The Cases Of Wolayita Zone, Ethiopia. International Journal of Education 11: 7886. https://doi.org/http://dx.doi.org/10.17509/ije.v11i1.12165.
SB, Nugraheti Sismulyasih; Nuryanto, Sukarir; Abidin. A Zaenal; Setijowati, Umi. 2018. œPeningkatkan Keterampilan Berbicara Mahasiswa PGSD Dalam Perkuliahan Bahasa Indonesia Berbasis Konservasi Nilai-Nilai Karakter Melalui Penerapan Metode Task Based Activity Dengan Media Audio Visual. Jurnal Penelitian Pendidikan 35: 8394. https://journal.unnes.ac.id/nju/index.php/JPP/article/download/15095/7919.
Subandi. 2013. œPeningkatan Keterampilan Berbicara Mahasiswa Bahasa Jepang Melalui Pendekatan Lesson Study Dengan Menggunakan Materi Ajar Apresiatif. Paramasastra, Jurnal Ilmiah Bahasa Sastra Dan Pembelajarannya 1: 92108. http://ejournal.fbs.unesa.ac.id/index.php/Paramasastra/article/download/8/11.
Sukiman. 2012. Pengembangan Media Pembelajaran. Yogyakarta: Pedagogia.
Tarigan, Henry Guntur. 1985. Berbicara Sebagai Suatu Keterampilan Berbahasa. 1st ed. Bandung: Angkasa.
""". 2008. Berbicara Sebagai Suatu Keterampilan Berbahasa. Badung: Bumi Aksara.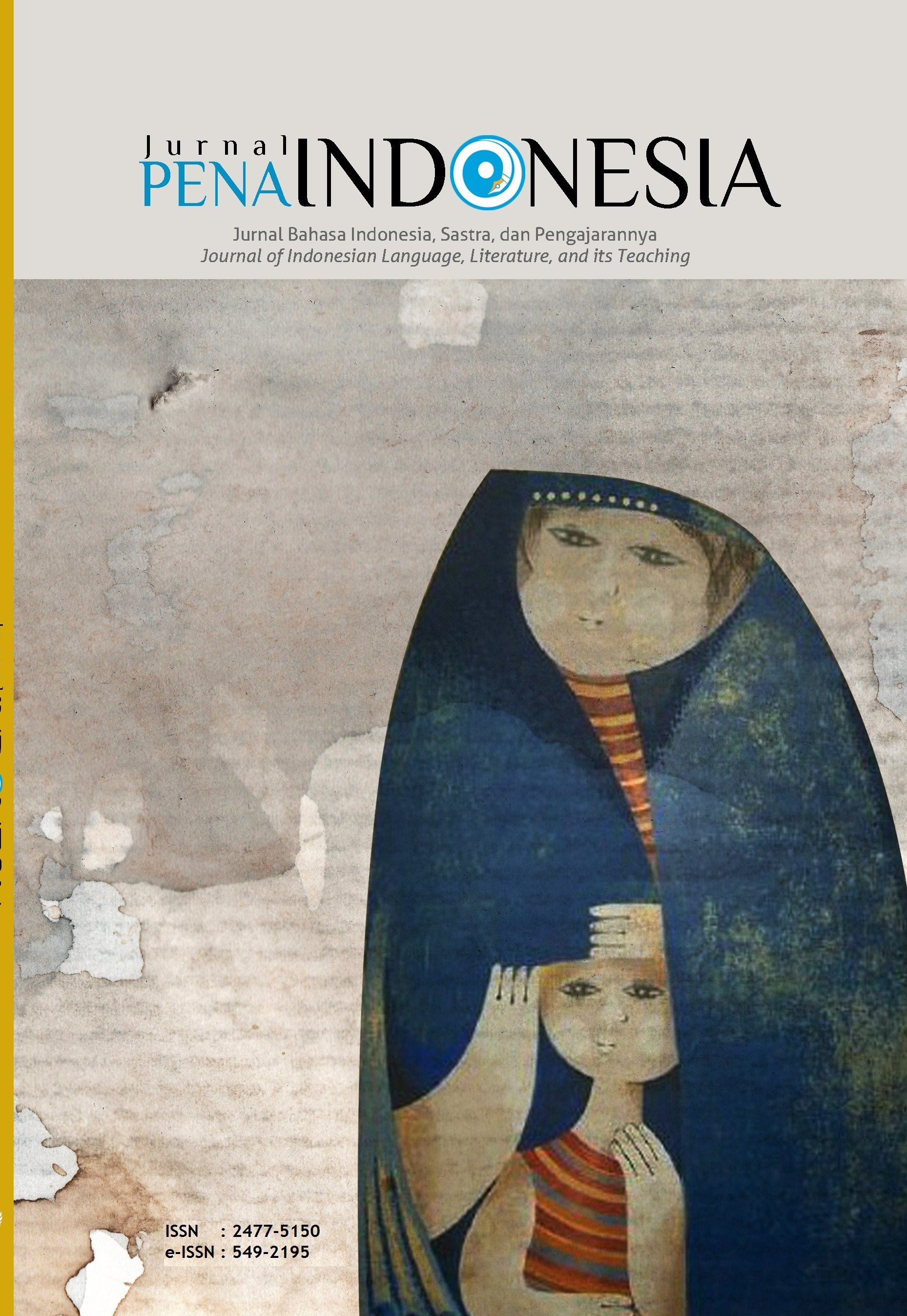 ##submission.downloads##
Lisensi
With the receipt of the article by the Jurnal Pena Indonesia (JPI) Editorial Board and the decision to be published, then the copyright regarding the article will be diverted to Jurnal Pena Indonesia (JPI)
Jurusan Bahasa dan Sastra Indonesia, Fakultas Bahasa dan Seni, Universitas Negeri Surabaya, as the publisher of Jurnal Pena Indonesia (JPI) hold the copyright regarding all the published articles in this journal. 
Jurusan Bahasa dan Sastra Indonesia, Fakultas Bahasa dan Seni, Universitas Negeri Surabaya,  has the right to multiply and distribute the article and every author is not allowed to publish the same article that was published in this journal. Thanks to JBSI Universitas Negeri Surabaya that was funded this journal sustainability.

Abstract views: 685 ,

PDF Downloads: 844