PROFIL CABANG OLAHRAGA UNGGULAN PAPUA (Studi Deskriptif Berdasarkan Perolehan Medali)
Abstract
Abstraks: The purpose of this study was to see the profile of the sport featured on the side of the medals Papua fifth consecutive PON. The method used is descriptive method to verify the data sport that gained the gold medal in the last 5 PON. Pupolasi in this study were all built Koni sport Papua province where 42 sports. While the sample is a sport that gained medals in the last 5 PON. Result. Sports that consistently win gold medals in bertut 5 Last PON respectively were athletics, PODSI (Canoes, kayaks, dragon boats)  and PABBSI (weightlifting, weight lifting and body building) as the flagship sport of Papua.
Keywords: Profile, Branch sports, featured Papua.
References
DAFTAR PUSTAKA
Depdiknas, 2004. Indikator Olahraga Indonesia (Kerjasama Badan Pusat Statistik dan Direktorat Jenderal Olahraga, Jakarta,
Hadi, Sutrisno. 1993. Metodologi Research. Jakarta: Andi Offset.
Harsuki. 2003. Perkembangan Olahraga Terkini Kajian Para Pakar. Jakarta: PT. Raja Grafindo Persada.
Lutan Rusli, MF. Siregar, dan Tahir Jide, , 2004. Akar Sejarah dan Dimensi Keolahragaan Nasional, Jakarta: Direktorat Jenderal Olahraga, Depdiknas.
Muller, Kal, 2011. Pesisir Selatan Papua, First Edition, Indonesia: DW Books.
Mutohir ,T. Cholik, 2004. Olahraga dan Pembangunan, Jakarta: Proyek Pengembangan dan Keserasian Kebijakan Olahraga, Dirjen Olahraga, Depdiknas.
Pattipi, Jakob, 1993. Etnografi Irian Jaya, Panduan Sosial Budaya, Uncen Pers,
Puslit Uncen, 1997. Pemetaan social budaya di Kabupaten Merauke, Fak-Fak dan Jaya wijaya. Jayapura: Uncen Press.
Suratman, Tono, 2015. Strategi Olahraga Nasional Abad 21, Jakarta: Verbun Publising.
Undang-Undang Republik Indonesia Nomor 3 tahun 2005, Sistim Keolahragaan Nasional, Jakarta: Kementerian Negara Pemuda dan Olahraga.
Article Metrics
Abstract view: 59 times
PDF: 231 times
Refbacks
There are currently no refbacks.
JOSSAE (Journal of Sport Science and Education)  E-ISSN : 2548-4699
Indexed by :
Alamat Penyunting dan Tata Usaha
Sekretariat JOSSAE. Gedung U1 Lantai 2
FIK - Unesa Lidah Wetan, 60213 Surabaya - Jawa Timur
Phone: 031-7532571 Fax 031-7532759
Whatssapp: +4915175575317, 081235964624
Hmepage : http : //fik.unesa.ac.id
E-mail: jossae.fik@unesa.ac.id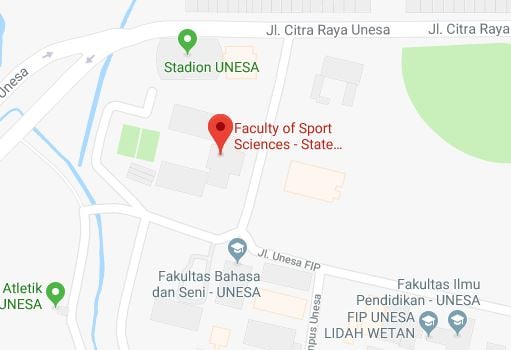 Journal of Sport Science and Education (JOSSAE) is licensed under a Creative Commons Attribution-ShareAlike 4.0 International License.