Diversity of Moss Species (Bryophyta) In Senggani Ravine Tourism Area, Tulungagung Regency
Abstract
Moss plants (Bryophyta) are found in every habitat, and their presence in an ecosystem is controlled by environmental circumstances. The Senggani Ravine tourism area is a popular tourist attraction comprising a pine forest with extensive moss communities. This work aimed to assess the diversity of mosses (Bryophyta) in the Senggani Ravine tourism area for the first time. In June 2022, exploratory descriptive research of moss diversity was undertaken by a free walk around the Senggani Ravine tourism area from a predetermined position point (purposive sampling) using observation, documentation, literature study, and measurement of abiotic elements for data collection. Based on the results, twenty species of mosses were identified and can be divided into four classes, namely the Bryopsida, Polytrichopsida, Jungermanniopsida, and Marchantiopsida. The species identified were Barbulla indica, Fissidens purpusillus, Fissidens biformis, Fissidens biformis, Octoblepharum albidum, Rhizonium punctatum, Mnium hornum, Philonotis marchica, Fontinalis antipyretica, Hypnum cupressiform, Polytrichastrum formosum, Lejeunea flava, Lejeunea cavifolia, Bazzania prareupta, Bazzania vittata, Riccia junghuhniana, Marchantia emarginata, Marchantia polymorpha, Dumortiera hirsuta, and Lunularia cruciate. Abiotic factor measurements revealed that zone 3, which has a soil pH of 6, an air temperature of 24.1 C°, an 84% humidity level, and 200 Cd of light cm-1, is the most favorable area for moss growth. We can infer that the Senggani Ravine tourism area is still primarily undisturbed because the moss flora is still quite diverse and varied.
References
Angeles E. J. A., Magat B. M., & Jalandoni R. S. D. (2020). Distribution of Bryophytes in the University of the Philippines Diliman, Quezon City, Philippines. Annals of Plant Sciences, 9 (8), 3957-3969. https://doi.org/10.5281/aps.2020.9.8.1.
Arikunto, S. (2002). Metodologi Penelitian Sudatu Pendekatan Proposal. PT. Rineka Cipta. Jakarta.
Asthana, A.K., Sahu, V., & Nath, V. (2012). Polytrichastrum formosum (Hedw.) G.L. Smith in India. Bryology Laboratory, 33 (1), 87-90. https://doi.org/10.7872/cryb.v33.iss1.2012.087.
Azwir, Maulida, Jalaluddin., & Saputra, S. (2022). Inventarisasi Keanekaragaman Tumbuhan Lumut (Bryophyta) di Hutan Kecamata Mesjid Raya Kabupaten Aceh Besar Sebagai Media Pembelajaran Biologi. Jurnal Biologi Education, 10(1), 94-102. https://doi.org/10.32672/jbe.v10i1.4386.
Bawaihaty, N. I., & Hilwan, I. (2014). Keanekaragaman dan Peran Ekologi Bryophyta di Hutan Sesaot Lombok, Nusa Tenggara Barat. Jurnal Silfikultur Tropika, 5(1), 13-17.
Effendi, R., Salsabila, H., & Malik, A. (2018). Pemahaman Tentang Lingkungan Berkelanjutan. Jurnal Modul, 18(2), 75-82. https://doi.org/10.14710/mdl.18.2.2018.75-82.
Endang, T., Jumiati., & Pramesti, D. (2020). Inventarisasi Jenis-Jenis Lumut (Bryophita) di Kecamatan Batauga Kebupaten Buton Selatan. Jurnal Biologi Tropis, 20(2), 161-172. https://doi.org/10.29303/jbt.v20i2.1807.
Febriansah, R., Eni, S., & Arbaul, F. (2019). Identifikasi Keanekaragaman Marchantiophyta di Kawasan Air Terjun Parangkikis Pagerwojo Tulungagung. Jurnal Biologi dan Pembelajarannya, 6(2), 17-21. https://doi.org/10.29407/jbp.v6i2.14795.
Febrianti, G.N. (2015). Identifikasi Tumbuhan Lumut (Bryophyta) di Lingkungan Universitas Jember serta Pemanfaatanya sebagai Buku Nonteks. Skripsi. Universitas Jember, Jember. (Tidak diterbitkan).
Goffinet, B. (2008). Bryophyte Biology. Cambridge University Press. UK
Hugonnot, V., & Celle, J. (2012). Asexual Reproduction by Leaf Fragmentation in Mnium stelleare Hedw. Journal of Bryology, 34 (1), 67-70.
Karomah, S. D., Gurnita., & Ibrahim, Y. (2020). Identifikasi Jenis-Jenis Tumbuhan Lumut Hati (Marchantiophyta) Di Hutan Cagar Alam Situ Patenggang. BIOSFER: J.Bio. & Pend.Bio, 5(2), 21-25. https://doi.org/10.23969/biosfer.v5i2.3479.
Kirschner, R., Nebel, M., & T. Butterfass, T. (2010). Observations on fertile populations of Lunularia cruciata (L.) Dumort. ex Lindb. (Marchantiopsida: Lunulariaceae) in Germany. Stuttgarter Beiträge zur Naturkunde A. Neue Serie 3, 363–371.
Koponen, T., & Higuchi, M. (2020). Revision and Checklist of Philonotis (Bartramiaceae, Bryophyta) in Pakistan, With the Status of P. trachyphylla Dixon & Badhw. and note on Mnium riparium Mitt. (Mniaceae). National Museum of Nature, 46 (2), 55-64. https://doi.org/10.5735/085.057.0402.
Liannah, Kusumawari, N., Rochmah, F., Orsida, F., Mukhlisi, Ahmad, M.U., & Nadhifah, A. (2021). Bryophyte Diversity in Mountain Prau, Blumah Village, Central Java. Jurnal Biodjati, 6(1), 23-35. https://doi.org/10.15575/biodjati.v6i1.11693.
Lukitasari, M. (2016). Mengenal Tumbuhan Lumut (Bryophyta) Deskripsi, Klasifikasi, Potensi dan Cara Mempelajarinya. Magetan: CV. AE Media Grafika.
Lestari, R. W., & Ariyanti, N. S. (2017). Bazzania (Marchantiophyta: Lepidoziaceae) Di Taman Nasional Gunung Leuser (Sumatra). Floribunda. 5(7): 227-238.
Marom, K., Nasrulloh, S.Q., Zulaekhah, E., Isa, A.K., dan Firmansyah, M.A. (2017). Keanekaragaman Jenis Lumut (Bryophyta) di Sekitar Sumber Air Asin Sendang Jaka Tawa Banyurip Grobogan. Seminar Nasional Sains dan Enttrepreneurship IV (Prosiding). Universitas PGRI Semarang.
Moelong, L.J. (2017). Metode Penelitian Klualitatif. Bandung: PT. Remaja Rosdakarya.
Mulyani, E., Perwati, L. K. Dan Murningsih, M. (2015). Lumut Daun Epifit di Zona Tropik Kawasan Gunung Ungaran, Jawa Tengah. Bioma: Berkala Ilmiah Biologi. 16(2), 76-82. https://doi.org/10.14710/bioma.16.2.76-82.
Nasuha, A., Sari, D., & Windarsih, G. (2021). Identifikasi Morfologi Ceratodon dan Leucobryum albidum di Kawassan Hutan Kota Serang, Banten. Tropical Bioscience: Journale of Bilogical Science, 1 (1), 11-20. https://doi.org/10.32678/tropicalbiosci.v1i1.4361.
Perwati, K. L., Rahadian, R., & Baskoro, K. (2015). Perbandingan Komposisi Tumbuhan Lumut Epifit pada Hutan Alam, Kebun Kopi dan Kebun Teh di Sepanjang Gradien Ketinggian Gunung Ungaran, Jawa Tengah. Bioma: Berkala Ilmiah Biologi,17(2), 83-93. https://doi.org/10.14710/bioma.17.2.83-93.
Raihan, C., Nurasiah, & Zahara, N. (2018). Keanekaragaman Tumbuhan Lumut (Bryophyta) di Air Terjun Peucari Bueng Jantho Kabupaten Aceh Besar. Prosiding Seminar Nasional Biotik (Prosiding). Prodi Biologi FTK UIN Ar-Raniry.
Ristanto, R.H., Syahira, H.Q., Yuanisa, A.T., Amalia, A., Lianita, R., Azzahra, A., & Sigit, D.V. (2021). Mosses at the Bodogol Natural Conservation Education Center: Species, Diversity Indeks, and Evenness Indeks. JPBIO (Jurnal Pendidikan Biologi), 6 (2), 220-230. https://doi.org/10.31932/jpbio.v6i2.1308.
Roziaty, E., Agustina, P., & Rohmah, S.N. (2019). Inventory of Epiphytic Moss in the Tree Trunk Zonation of Jumog Waterfall Ngargoyoso Tawangmangu Karanganyar Central Java, Indonesia. Jurnal Ilmiah Biologi, 7 (2), 73-79. https://doi.org/10.24252/bio.v7i2.6336.
Rusidi, Henri, dan Santi, R. (2021). Keanekaragaman Jenis Lumut (Bryophyta) di Bukit Nenek Taman Wisata Alam Gunung Permisan, Kabupaten Bangka Selatan. Jurnal Biologi Udayana, 25 (2), 137-146.
Pasaribu, N. 2013. Studi Pendahuluan Lumut di Lau Kawar, Kabupaten Karo. [Prosiding]. Semirata FMIPA Universitas Lampung. p.193-198.
Putna S., dan Mezaka A. (2014). Distribution of Five Interesting Woodland Key Habitat Bryophyte Indicator Species in Latvia. Acta Biol. Univ. Daugavp, 14 (1), 67-74. https://www.researchgate.net/journal/Acta-Biologica-Universitatis-Daugavpiliensis-1407-8953.
Solihat, S. S., & Kurnia, M.F. (2021). Identifikasi Morfologi Marchantia polymorpha dan Leucobryum glaucum di Bojong Menteng, Kecamatan Cijeruk, Kabupaten Bogor, Jawa Barat. Journal of Biological Science, 1 (1), 29-38. https://doi.org/10.32678/tropicalbiosci.v1i1.4360.
Sopacua G., Tamaela K. A., Sopratu P., & Selehulano K. (2020). Inventarisasi Tumbuhan Lumut Di Kawasan Air Potang-Potang Negeri Itawaka Kabupaten Maluku Tengah. Jurnal Ilmiah Wahana Pendidikan, 6 (4), 611-618. https://doi.org/10.5281/zenodo.4297891.
Sundra, I.K. (2016). Metode dan Tenik Analisis Flora dan Fauna Darat. Biologi FMIPA Universitas Udayana. Denpasar.
Tomovic, G., Sabovljevic, M.S., Denchev, T.T., Denchev, C.M., Niketic, M., Boycheva, P., Ivanov, D., Sabanovic, E., Djordjevic, V., Kutmar, L., Stefanut, S., Pantovic, J., Grdovic, S., Kuzmanovic, N., Masic, E., & Lazarevic, P. (2021). New Records and Noteworthy Data of Plants, Algae and Fungi in SE Europe and adjacent Regions, 4. Botanica Serbica, 45 (1), 129-136. http://dx.doi.org/10.2298/BOTSERB2201125S.
Wati, T.K., Kiswardiana, B., & Sulistyarsi, A. (2016). Keanekaragaman Hayati Tanaman Lumut (Bryophyta) di Hutan Sekitar Waduk Kedung Brubus Kecamatan Keceng Kabupaten Madiun. Jurnal Florea, 3(1), 46. http://e-journal.unipma.ac.id/index.php/JF/article/view/787.
Wen, L. Y., & Huang S. (2017). Marchantia L. (Marchantiaceae-Marchantiophyta) in Taiwan. Taiwania, 62(1), 55‒62.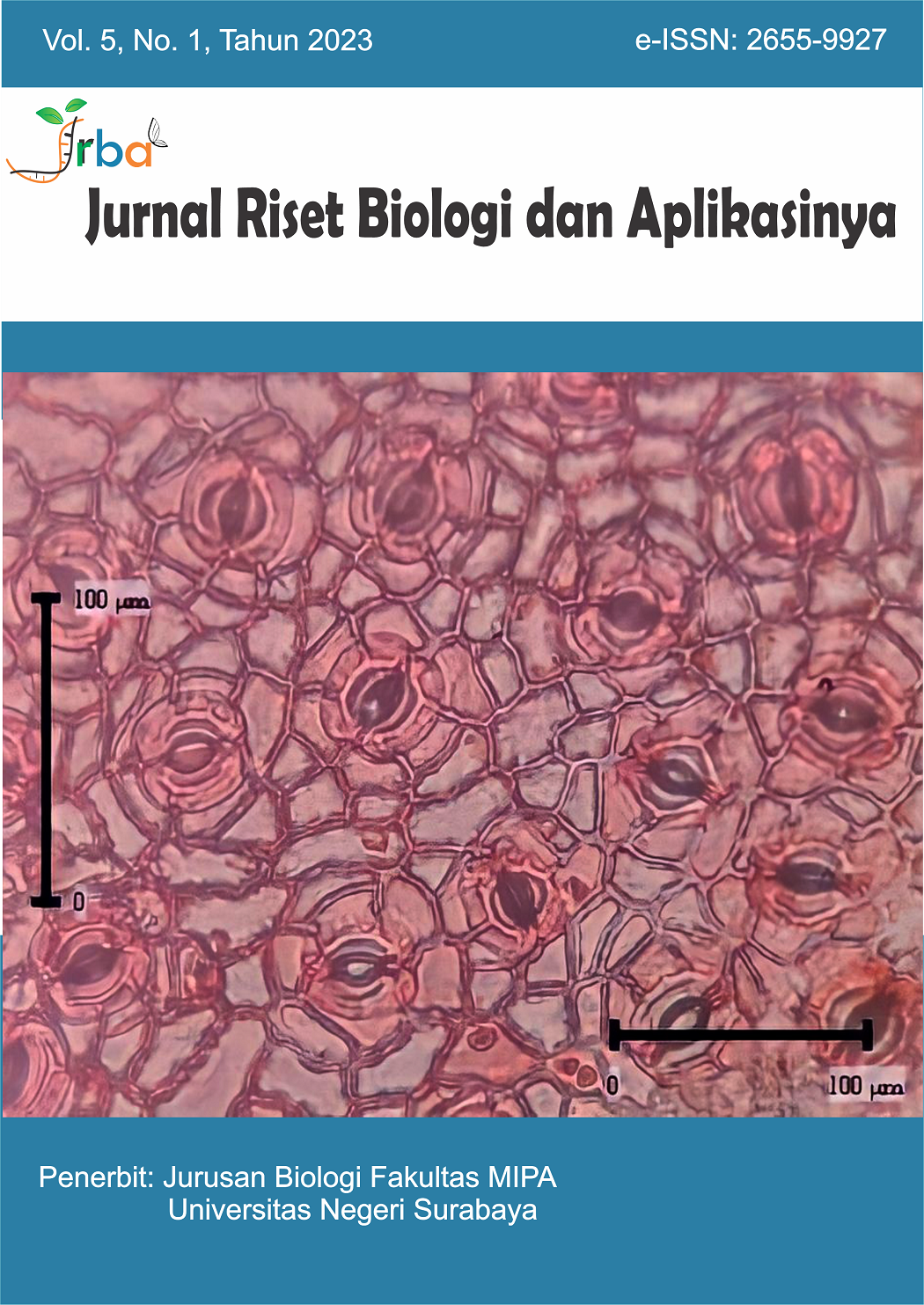 Downloads
How to Cite
Kartikasari, D. ., Anon Widodo, G. ., Habibah, N. ., & Zahratul Asna, R. . (2023). Diversity of Moss Species (Bryophyta) In Senggani Ravine Tourism Area, Tulungagung Regency. Jurnal Riset Biologi Dan Aplikasinya, 5(1), 43–51. https://doi.org/10.26740/jrba.v5n1.p43-51
License
Copyright (c) 2023 Jurnal Riset Biologi dan Aplikasinya
This work is licensed under a Creative Commons Attribution-NonCommercial 4.0 International License.
Authors who publish with this journal agree to the following terms:
This work is licensed under a Creative Commons Attribution-NonCommercial 4.0 International License.
Copyright Notice
The copyright of the received article once accepted for publication shall be assigned to the journal as the publisher of the journal. The intended copyright includes the right to publish the article in various forms (including reprints). The journal maintains the publishing rights to the published articles.
The publisher publish and distribute the Article with the copyright notice to the JRBA with the article license CC-BY-NC 4.0.

Abstract views: 324 ,

PDF Downloads: 623