Jurnal Ekonomi Pendidikan dan Kewirausahaan (JEPK) is a scientific publication that publishes scientific articles of research, study and development in the field of economics education, entrepreneurship, and economics of education.
JOURNAL INFORMATION
Journal Title: Jurnal Ekonomi Pendidikan dan Kewirausahaan
Initials: JEPK
Frequency: 2 issues per year (April and October)
Print ISSN: 2303-324X
Online ISSN: 2579-387X
Editor in Chief: Prof. Dr. Ady Soejoto, SE, M.Si
DOI: 10.26740/jepk
Publisher: Universitas Negeri Surabaya in collaboration with Asosiasi Profesi Pendidik Ekonomi Indonesia (ASPROPENDO)
Status: 

Accredited by the Ministry of Research, Technology and Higher Education of the Republic of Indonesia (RISTEKDIKTI), 

No. 10/E/KPT/2019 (3rd Grade or SINTA 3) and indexed internationally (DOAJ, Microsoft Academic Search, Copernicus, Dimensions, Google Scholar, etc)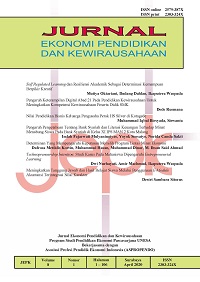 Announcements
No announcements have been published.
Vol 8, No 2
Table of Contents
Articles
| | | |
| --- | --- | --- |
| | Ayis Crusma Fradani, Rika Pristian Fitri Astuti | 111-120 |
Abstract view: 682 times
Abstract view: 310 times
| | | |
| --- | --- | --- |
| | Kodri Kodri, Neti Budiwati, Ika Putera Waspada | 129-138 |
Abstract view: 430 times
| | | |
| --- | --- | --- |
| | Rizky Maulana, Ika Rahma Ginting | 139-150 |
Abstract view: 273 times
Abstract view: 370 times
Abstract view: 203 times
| | | |
| --- | --- | --- |
| | Roma Nainggolan, Dhia Harny | 183-198 |
Abstract view: 631 times
Abstract view: 406 times