Analisis Penentuan Tarif Layanan Bus Kota Berdasarkan Marginal Cost Pricing (Studi Pada Perum Damri Kota Surabaya)
Keywords:
Transport Rates, Marginal Cost Pricing
Abstract
Abstract

The concept of regional autonomy has implications for financing in all sectors, including transport. To be able to provide adequate public transport facilities, one of the opportunities is the mobilization of funds through tariff collection mechanism. Determination of transport rates set out in the local rules based approach Incrementalism and line items. This approach represents a lack of economic and psychological capabilities and suitability of the benefits received by the sacrifices that have been issued. Therefore research is needed to analyze the determination of rates of local regulations bound public services locally. This study aimed to analyze the determination of the city bus rate by Cost Pricing (MCP) marginal approach, that was the determination of tariff by considering the social benefits received by customers, so if there were additional rates so consumers should receive additional social benefits. Based MCP, Perum Damri can assign the same rate if the consumer gets the same standard of service, but if there was a decline in the standard of service, then the rates should be differentiated.


References
Ariestis. 2004. Analisa Ekonmi Pengelolaan Sumberdaya Air Dalam Rangka Kebijakan Pra dan Pasca Privatisasi: Study kasus Pengelolaan Air Oleh PAM Jaya Jakarta. Fakultas Ilmu-ilmu Sosial Ekonomi Pertanian. Institut Pertanian Bogor
Fahrurazi. 2001. Analisis Biaya Satuan Dan Kemampuan Bayar Masyarakat Untuk Penetapan Tarif Puskesmas Di Wilayah Kabupaten Tanjung Jabung Barat Tahun 2001. Tesis.Universitas Indonesia
Hanemann, W. Michael.1998b.Price and Rate Structures (Chapter 5) in Baumann, Duane D.,John J Boland and W. Michael Hanemann.
Hantanto Hans. 2009. Analisa Penentuan Tarif Optimum Air Tanah Bagi Gologan Tarif Niaga Besar: Study Kasus di Kotamadya Jakarta Selatan. Fakultas Ekonomi Manajemen. Institut Pertanian Bogor.
Mardiasmo, 2005, Akuntansi Sektor Publik, ANDI, Yogyakarta
Mc Neil, Roger and Donald Tate. 1991.Guidlines For Municipal Water Pricing. Social Science Series No. 25 Inland Waters Directorate Water Planning and Management Branch. Otawa,Canada
Putri, A. T. 2007. Analisis Ekonomi Kebijakan Tarif Air PDAM Kota Bandung serta Respon Pelanggan Terhadap Peningkatan Tarif.Skripsi.Program Studi Ekonomi Pertanian dan Sumberdaya. Fakultas Pertanian. Institut Pertanian Bogor. Bogor.
Sukamerta dan Rohman. 2007. Rasionalisasi Tarif Puskesmas Berdasarkan Analisis Biaya Satuan. Skripsi. Fakultas Kesehatan Masyarakat. Universitas Airlangga Surabaya
Undang-undang Nomor 5 tahun 1999 tentang Larangan Praktik Monopoli dan Persaingan Usaha Tidak Sehat.
Warford, J. J. 1997. Marginal Opportunity Cost Pricing for Municipal WaterSupply.(http://203.116.43.77/publikations/specialp2/ACF298.html diakses 12/2008)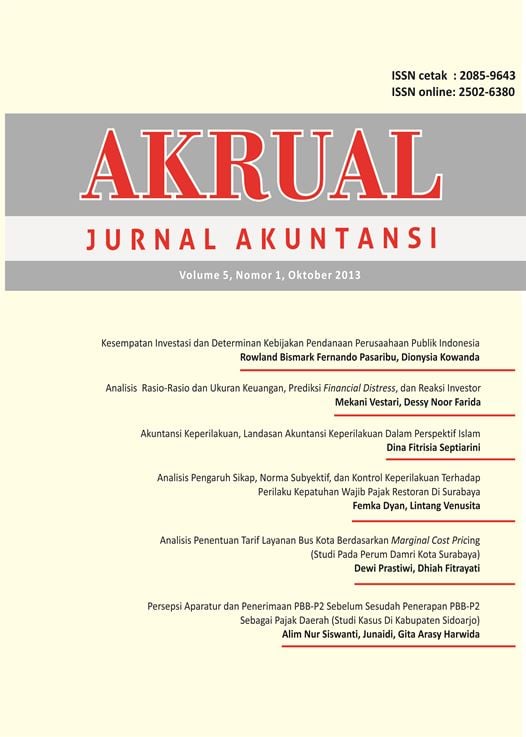 Downloads
How to Cite
Prastiwi, D., & Fitrayati, D. (2013). Analisis Penentuan Tarif Layanan Bus Kota Berdasarkan Marginal Cost Pricing (Studi Pada Perum Damri Kota Surabaya). AKRUAL: Jurnal Akuntansi, 5(1), 75–98. https://doi.org/10.26740/jaj.v5n1.p75-98
License
Authors who publish with this journal agree to the following terms:
Authors retain copyright and grant the journal right of first publication with the work simultaneously licensed under a Creative Commons Attribution-

NonCommercial

4.0 International License that allows others to share the work with an acknowledgement of the work's authorship and initial publication in this journal.
Authors are able to enter into separate, additional contractual arrangements for the non-exclusive distribution of the journal's published version of the work (e.g., post it to an institutional repository or publish it in a book), with an acknowledgement of its initial publication in this journal.

Abstract views: 1565 ,

PDF Downloads: 4713