PEREMPUAN JAWA DALAM NOVEL RARA MENDUT KARYA Y.B. MANGUNWIJAYA
Keywords:
Genetic Structuralism, feminism, Rara Mendut novel.
Abstract
This research aims to describe and explain: (1) the view of authors world about feminism Rara Mendut novel by Y.B. Mangunwijaya; (2) text structure Rara Mendut novel by Y.B. Mangunwijaya; (3) background of socio-historic Rara Mendut Novel by Y.B. Mangunwijaya. This research is a qualitative study with subject matter analysis method. Data collection technique used is non-interactive technique. Non-interactive technique covers noting the document or archive (content analysis) and interview. Data analysis technique uses interactive analysis technique. The results of this research are as follows: (1) the world view of Y.B. Mangunwijaya is a view of moderate feminism world, (2) structure of the text which is thematically is centered on Rara Mendut in her relation with other characters, from the interaction of Rara Mendut with other characters will be expressing the authors world view (3) the structure of socio-historic novel Rara Mendut  is social structure of Mataram empire society.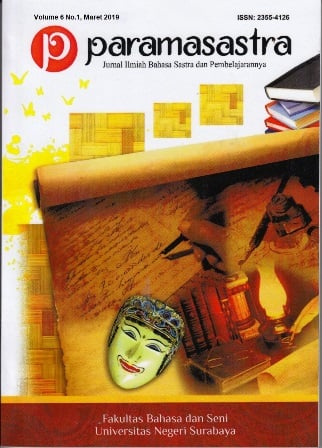 Downloads
How to Cite
Septiana, H. (2019). PEREMPUAN JAWA DALAM NOVEL RARA MENDUT KARYA Y.B. MANGUNWIJAYA. Paramasastra : Jurnal Ilmiah Bahasa Sastra Dan Pembelajarannya, 6(1). https://doi.org/10.26740/paramasastra.v6n1.p%p

Abstract views: 388 ,

PDF Downloads: 3877