HUBUNGAN DEIKSIS PERSONA DAN DEIKSIS SOSIAL DALAM FILM《悲伤逆流成河》Bēishāng nìliú chénghé CRY ME A SAD RIVER KARYA LUO LUO
Abstract
Besides being used for exchanging information, language is also used by humans to refer to one thing in a context. Without context, the interlocutor will find difficulties to understand the meaning of the designation expressed by the speaker. In pragmatics, the expression of designation is called deixis. There are four types of deixis, personal diexis, social deixis, time deixis, and place deixis. Personal deixis and social deixis are types of deixis that have a close relationship. This research aims to discuss the relationship between personal deixis and social deixis in the film Cry Me a Sad River《悲伤逆流成河》Bēishāng Nìliú Chénghé by Luo Luo. This research is qualitative research with the data in the form of speech transcripts containing personal deixis and social deixis. The method used is descriptive method. This study used the simak bebas libat cakap technique and note-taking techniques. The following results were obtained: (1) the speech transcripts contained 192 data of personal deixis and 21 data of social deixis. (2) There is a connection between personal deixis and social deixis, namely aspects of social deixis influence the speaker's choice of personal deixis.
Key Words: Deixis, Relationship, Personal Diexis, Social Deixis, Cry Me a Sad River
References
Chaer, Abdul dan Leoni Agustin. 2014. Sosiolinguistik: Perkenalan Awal.Jakarta:Rineka Cipta
Cummings, Louise. 2007. Pragmatik:Sebuah Perspektif Multidisipliner. Terjamahan oleh Eti Setiawati, dkk. Yogyakarta:Pustaka Pelajar
Jiang, Liping (姜丽萍), Yu Miao (于淼), dan Li Lin (李琳). 2016. Panduan Persiapan HSK (Tingkat 3) Buku Ajar. Terjemahan oleh Sofi Zhang dan Linda. Jakarta:PT. Legacy Utama Kreasindo
Levinson, Stephen C. (1983). Pragmatics. Cambridge: Cambridge University Press
Revita, Ike. 2009. "Antara Aku, Saya, Nama Diri, dan Panggilan Diri (Kajian Lintas Sosiopragmatik)". Padang: Universitas Andalas. Diakses 1 Juli 2022.
Rohmadi, Muhammad. 2017. PRAGMATIK: Teori dan Analisis. Surakarta:Yuma Pustaka
Subandi, Subandi; Pangesty, Herina Endah; Wibisono, Galih. 2020. Illocutionary Acts in Lost in Thailand Detective Humor Movie. Pp. 738-746. Atlantis Press (Online) https://dx.doi.org/10.2991/assehr.k.201201.124 (diakses pada 4 April 2022)
Subandi, S., Renfei, X., Masrur, M. F., & Arista, C. (2021, December). Behaviors of Personal Meaning Marker Suffixes in Mandarin Language. In International Joint Conference on Arts and Humanities 2021 (IJCAH 2021) (pp. 73-78). Atlantis Press. (Online) https://doi.org/10.2991/assehr.k.211223.014 (diakses pada 1 Juli 2022)
Subandi, S., Masrur, M. F., Arista, C., & Dasion, H. Y. T. (2022). KEJAHATAN BERBAHASA SEBAGAI PRAKTIK KEKUASAAN SIMBOLIK DALAM FILM BETTER DAYS《 少年的你》 KARYA DEREK TSANG. PARAFRASE: Jurnal Kajian Kebahasaan & Kesastraan, 22(1), 50-63. https://doi.org/10.30996/parafrase.v22i1.6237 (diakses pada 1 Juli 2022)
Sumarsono. 2007. Pragmatik. Singaraja: Undiksha.
Yule, George. 2018. Pragmatik.Terjemahan oleh Indah Fajar Wahyuni. Yogyakarta:Pustaka
Xu. Liqun. 2014. CNKI 知网: << 现代汉语指示语和语境的关>>, (online). (http://wap.cnki.net/touch/web/Dissertation/Article/10446-2010137382.nh.html) diakses pada 14 Juni 2022 pukul 17.02 WIB
Zhang, Yu. 2013. Pragmatic Functions of Anti-Pre-Empative Use of Person Deixis and Pre-Empative Use of Social Deixis in Chinese. Modern Linguistic. Vol. 3. No. 4, 305-307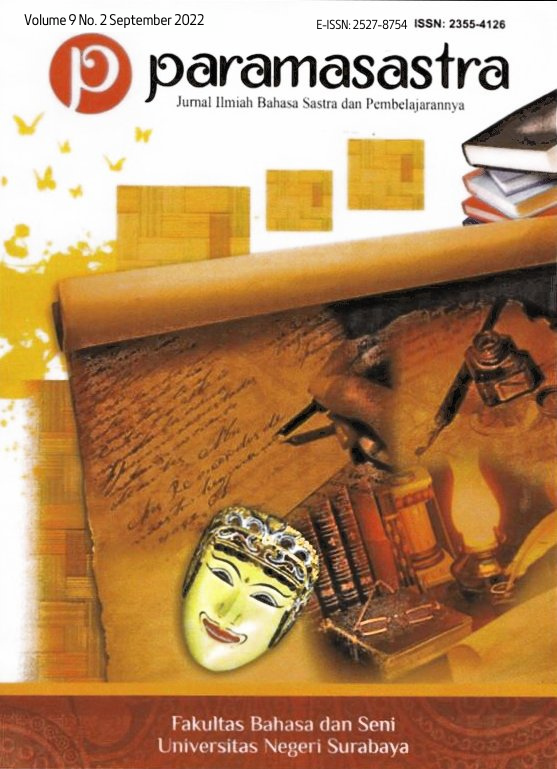 Downloads
How to Cite
Rahmawati, U., & Masrur, M. F. . (2022). HUBUNGAN DEIKSIS PERSONA DAN DEIKSIS SOSIAL DALAM FILM《悲伤逆流成河》Bēishāng nìliú chénghé CRY ME A SAD RIVER KARYA LUO LUO. Paramasastra : Jurnal Ilmiah Bahasa Sastra Dan Pembelajarannya, 9(2), 194–210. https://doi.org/10.26740/paramasastra.v9n2.p194-210

Abstract views: 73 ,

PDF Downloads: 54