MENINGKATKAN KETERAMPILAN EMPATI SISWA SEKOLAH DASAR MELALUI PAKET BIMBINGAN PENINGKATAN EMPATI
Keywords:
Peningkatan Empati, Siswa Sekolah Dasar, Paket Bimbingan Peningkatan Empati
Abstract
The results of a survey by Plan International and International Center for Research on Women (ICRW) survey released in early March 2015 show that 84% of children in Indonesia are experiencing violence in schools. Handling bullying behavior will not be effective if not accompanied by a prefentive effort. The lack of efforts and media prevention of bullying behavior becomes a problem that needs to get a settlement in order to realize the ideals of a character that can be realized. Individual abusers who refer to bullying have low empathy skills and high aggressiveness, so training empathy can be used as an effort to prevent aggressive behavior that refers to bullying.
This study aims to determine the effectiveness of empathy based guidance package based on experiential learning in improving the empathy skills of elementary school students. This research is a type of quasi experiment in which there are experimental groups that will be given treatments in the form of application of empathy based guidance counseling based on experiential learning and control group which will be given empathy material expository. The research was conducted at SDN Bulu Purwoasr. The subjects used were class V students according to the characteristics of the empathy improvement guidance package, which amounted to 32 students and then grouped randomly into the experimental group and the control group. The control group will receive empathic treatments using classical methods while the experimental group will get treatments using empathy based empathy guidance package based on experiential learning. Each will get four treatments with a duration of 35 minutes each session. Empathic skills are measured using the empathy scale developed by M.H Davis, the Interpersonal Reactivity Index (IRI) that has been adapted to Indonesian children's language and has been through expert test, validity test, and reliability.
Based on the results of data analysis, based on Independent T test scores, there are differences in empathy skills possessed by both groups both before and after treatment. It is shown from the score of the independent T test both before and after treatment, has a score of 0.37 and 0.02 or less than 0.05 which is the threshold of the significance score of the T test. In the postest activity, the control group has a mean more score high compared with the experimental group, ie 64.1: 62.9. However, after the treatment was given, the mean score of the control group was lower than the experimental group of 76.5: 79.1. The difference in percentage increase from pretest to posttest was also greater in the experimental group with 16.2% than in the control group with 12.4%. The effective contribution of the use of empathy based experiential learning guidance package is 25.8% -19.5% = 6.3%. It can be concluded that This means that the guidance package of empathy improvement based on experiential learning is effective to be applied to grade V elementary school students.
Keywords: Empathy Improvement, Elementary School Students, Empathy Improvement Guidance Package
References
Andreasson, P. 2010. Emotional Empathy, Facial Reactions, and Facial Feedback. Acta Universitatis Upsaliensis. Digital Comprehensive Summaries of Uppsala Dissertations from the Faculty of Social Sciences 58. 52 pp. Uppsala. ISBN 978-91-554-7840-7.

Andrianie, Santy. 2015. Pengembangan Paket Bimbingan Berbasis Experiential learning untuk Meningkatkan Empati Siswa Sekolah Dasar. Tesis Pascasarjana Jurusan Bimbingan dan Konseling Universitas Negeri Malang: Tidak diterbitkan.
Borba, M. 2008. Building Moral Intelligence. San Fransisco : Josey-Bass.

Coroloso, Barbara. 2007. Stop Bullying (Memutus Mata Rantai Kekerasan Anak dari Prasekolah Hingga SMU). Jakarta: Ikrar Mandiri Abadi

Davis, M.H. 1983. Measuring Individual Differences in Empathy. Journal of Personality and Social Psychology, 44, 113-126.

Goleman, D. 2007. Social Intelligence (terjemahan oleh Hariono S. Imam). Jakarta: PT. Gramedia Pustaka Utama.

Hoffman, M.L. 2000. Empathy and Moral Development: Implications for Caring and Justice. New York: Cambridge University Press.
http://www.m.liputan6.com/news/read/2191106/survei-icrw-84-anak-indonesia-alami-kekerasan-di-sekolah. Diunduh tanggal 15 April 2016.

Kartono, K . 2008. Kenakalan Remaja. Jakarta. Rajawali Pers.

Kolb, D. A. 1984. Experiential learning : Experience as The Source of Learning and Development. New Jersey : Prentice Hall, Inc.

Mardana, I.B. 2006. Implementasi Modul Eksperimen Sains Berbasis Kompetensi dengan Model Experiential learning dalam Upaya Meningkatkan Kualitas Pelaksanaan KBK dalam Pembelajaran Sains di SMP Negeri

Sukasada. (Jurnal Pendidikan dan Pengajaran IKIP Negeri Singaraja, No.4. Hal 782-797)
Nashori, F. 2008. Psikologi Sosial Islam. Bandung: PT. Refika Aditama.
Saripah, I. 20
Model Kognitif-Perilaku untuk Menanggulangi Perilaku Bullying (Model Konseling untuk Korban Bullying pada Siswa Sekolah Dasar). Disertasi Pasca Sarjana Jurusan Psikologi Pendidikan dan Bimbingan Universitas Pendidikan Indonesia Bandung: Tidak Diterbitkan.
Taufik. 2012. Empati Pendekatan Psikologi Sosial. Jakarta: Rajawali Pers.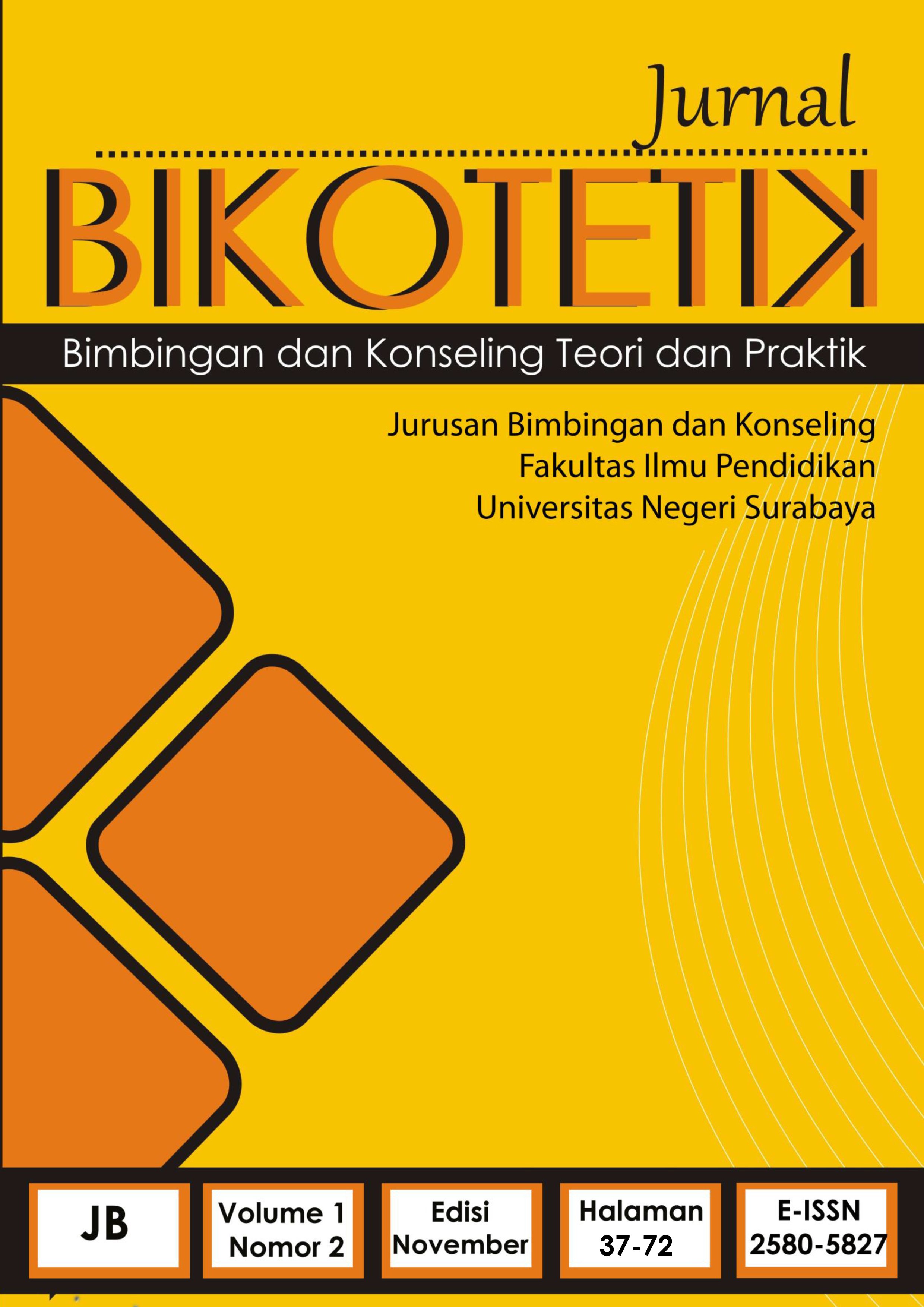 Downloads
License
Copyright Notice
Retained Rights/Terms and Conditions of Publication
1. As an author you (or your employer or institution) may do the following:
make copies (print or electronic) of the article for your own personal use, including for your own classroom teaching use;
make copies and distribute such copies (including through e-mail) of the article to research colleagues, for the personal use by such colleagues (but not commercially or systematically, e.g. via an e-mail list or list server);
present the article at a meeting or conference and to distribute copies of the article to the delegates attending such meeting;
for your employer, if the article is a 'work for hire, made within the scope of your employment, your employer may use all or part of the information in the article for other intra-company use (e.g. training);
retain patent and trademark rights and rights to any process, procedure, or article of manufacture described in the article;
include the article in full or in part in a thesis or dissertation (provided that this is not to be published commercially);
use the article or any part thereof in a printed compilation of your works, such as collected writings or lecture notes (subsequent to publication of the article in the journal); and prepare other derivative works, to extend the article into book-length form, or to otherwise re-use portions or excerpts in other works, with full acknowledgement of its original publication in the journal;
may reproduce or authorize others to reproduce the article, material extracted from the article, or derivative works for the authors personal use or for company use, provided that the source and the copyright notice are indicated, the copies are not used in any way that implies Bikotetik (Bimbingan dan Konseling: Teori dan Praktik) endorsement of a product or service of any employer, and the copies themselves are not offered for sale.
All copies, print or electronic, or other use of the paper or article must include the appropriate bibliographic citation for the articles publication in the journal.
2. Requests from third parties
Although authors are permitted to re-use all or portions of the article in other works, this does not include granting third-party requests for reprinting, republishing, or other types of re-use. Requests for all uses not included above, including the authorization of third parties to reproduce or otherwise use all or part of the article (including figures and tables), should be referred to Bikotetik (Bimbingan dan Konseling: Teori dan Praktik) going to our website at https://journal.unesa.ac.id/index.php/jbk.
3. Author Online Use
Personal Servers. Authors and/or their employers shall have the right to post the accepted version of articles pre-print version of the article, or revised personal version of the final text of the article (to reflect changes made in the peer review and editing process) on their own personal servers or the servers of their institutions or employers without permission from Bikotetik (Bimbingan dan Konseling: Teori dan Praktik), provided that the posted version includes a prominently displayed Bikotetik (Bimbingan dan Konseling: Teori dan Praktik) copyright notice and, when published, a full citation to the original publication, including a link to the article abstract in the journal homepage. Authors shall not post the final, published versions of their papers;
Classroom or Internal Training Use. An author is expressly permitted to post any portion of the accepted version of his/her own articles on the authors personal web site or the servers of the authors institution or company in connection with the authors teaching, training, or work responsibilities, provided that the appropriate copyright, credit, and reuse notices appear prominently with the posted material. Examples of permitted uses are lecture materials, course packs, e-reserves, conference presentations, or in-house training courses;
Electronic Preprints. Before submitting an article to an Bikotetik (Bimbingan dan Konseling: Teori dan Praktik), authors frequently post their manuscripts to their own web site, their employers site, or to another server that invites constructive comment from colleagues. Upon submission of an article to Bikotetik (Bimbingan dan Konseling: Teori dan Praktik), an author is required to transfer copyright in the article to Bikotetik (Bimbingan dan Konseling: Teori dan Praktik), and the author must update any previously posted version of the article with a prominently displayed Bikotetik (Bimbingan dan Konseling: Teori dan Praktik) copyright notice. Upon publication of an article by the Bikotetik (Bimbingan dan Konseling: Teori dan Praktik), the author must replace any previously posted electronic versions of the article with either (1) the full citation to the work with a Digital Object Identifier (DOI) or link to the article abstract in Bikotetik (Bimbingan dan Konseling: Teori dan Praktik) homepage, or (2) the accepted version only (not the final, published version), including the Bikotetik (Bimbingan dan Konseling: Teori dan Praktik) copyright notice and full citation, with a link to the final, published article in journal homepage.
4. Articles in Press (AiP) service
Bikotetik (Bimbingan dan Konseling: Teori dan Praktik) may choose to publish an abstract or portions of the paper before we publish it in the journal. Please contact our Production department immediately if you do not want us to make any such prior publication for any reason, including disclosure of a patentable invention.
5. Author/Employer Rights
If you are employed and prepared the article on a subject within the scope of your employment, the copyright in the article belongs to your employer as a work-for-hire. In that case, Bikotetik (Bimbingan dan Konseling: Teori dan Praktik) assumes that when you sign this Form, you are authorized to do so by your employer and that your employer has consented to the transfer of copyright, to the representation and warranty of publication rights, and to all other terms and conditions of this Form. If such authorization and consent has not been given to you, an authorized representative of your employer should sign this Form as the Author.
6. RCEPM-LIPI Copyright Ownership
It is the formal policy of Bikotetik (Bimbingan dan Konseling: Teori dan Praktik) to own the copyrights to all copyrightable material in its technical publications and to the individual contributions contained therein, in order to protect the interests of the Bikotetik (Bimbingan dan Konseling: Teori dan Praktik), its authors and their employers, and, at the same time, to facilitate the appropriate re-use of this material by others. Bikotetik (Bimbingan dan Konseling: Teori dan Praktik) distributes its technical publications throughout the world and does so by various means such as hard copy, microfiche, microfilm, and electronic media. It also abstracts and may translate its publications, and articles contained therein, for inclusion in various compendiums, collective works, databases and similar publications

Abstract views: 682 ,

PDF Downloads: 582