Pendampingan Model Paikem Gembrot Dalam Pengembangan Materi Bahasa Inggris Di Igra Gresik
Abstract
Pendidikan Bahasa Inggris memegang peranan yang sangat penting dalam kurikulum pendidikan di IGRA Gresik. Namun, selama proses pengajaran dan pembelajaran yang telah berlangsung, terdapat tantangan-tantangan yang dihadapi oleh para guru TK. Beberapa di antara mereka masih menghadapi kesulitan dalam menciptakan pengalaman belajar yang melibatkan siswa secara aktif, inovatif, kreatif, efektif, dan menyenangkan. Selain itu, ada kebutuhan yang perlu diatasi untuk meningkatkan kualitas pembelajaran Bahasa Inggris di dalam kelas. Oleh karena itu, pendampingan pengembangan materi pengenalan Bahasa Inggris di IGRA Gresik diperlukan. Pendampingan ini bertujuan untuk mendorong penggunaan model pembelajaran aktif, inovatif, kreatif, efektif, dan menyenangkan serta gembira dan berbobot (Paikem Gembrot). Melalui pelatihan workshop tatap muka, fasilitator melakukan pendampingan dalam mengembangkan materi pengenalan bahasa Inggris berbasis Paikem Gembrot. Pada akhir pelatihan, guru-guru mempresentasikan dan mendemonstrasikan hasil pengembangan materi yang telah mereka buat. Pendampingan ini diharapkan dapat memberikan dorongan kepada guru untuk menggunakan model pembelajaran Paikem Gembrot ini. Dengan demikian, kualitas pembelajaran bahasa Inggris di IGRA Gresik dapat ditingkatkan, sementara semangat belajar siswa pun akan meningkat.
Kata kunci: Model Paikem Gembrot, Guru TK, Materi Bahasa Inggris dasar
Downloads
Download data is not yet available.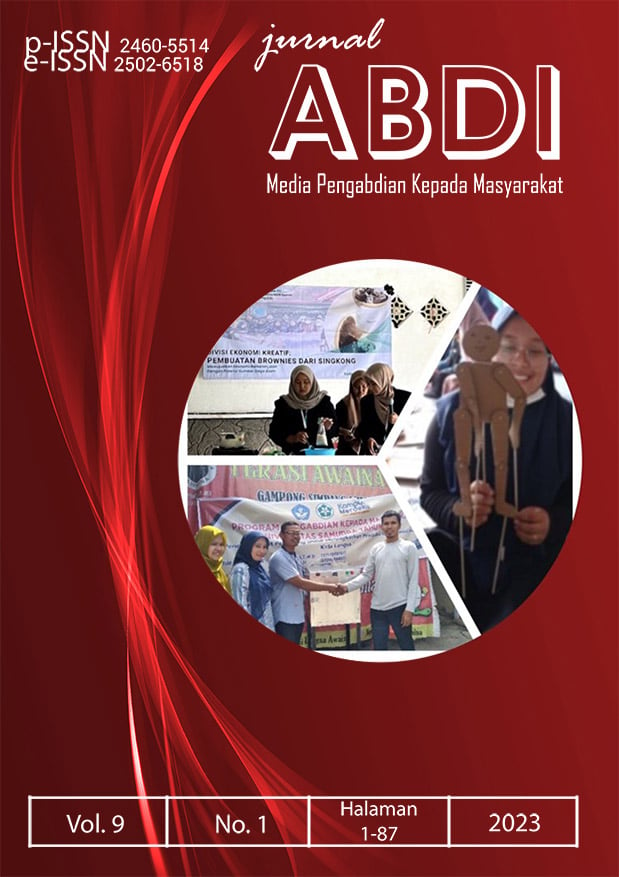 Downloads
License
Copyright (c) 2023 Jurnal ABDI: Media Pengabdian Kepada Masyarakat
This work is licensed under a Creative Commons Attribution 4.0 International License.
Authors who publish with this journal agree to the following terms:
Authors retain copyright and grant the journal right of first publication with the work simultaneously licensed under a Creative Commons Attribution-Non Commercial 4.0 License (CC BY-NC) that allows others to share the work with an acknowledgement of the work's authorship and initial publication in this journal for non commercial purposes.
Authors are able to enter into separate, additional contractual arrangements for the non-exclusive distribution of the journal's published version of the work (e.g., post it to an institutional repository or publish it in a book), with an acknowledgement of its initial publication in this journal.

Abstract views: 23 ,

PDF Downloads: 36