Pelatihan E-Commerce Dan Pembuatan Nomor Induk Berusaha Melalui Online Single Submission Untuk Mewujudkan Smart Village Mandiri Berwirausaha Di Desa Sukorejo
Pembuatan E-Commerce dan NIB di OSS
Abstract
E-commerce kini menjadi pusat perhatian khususnya bagi para pelaku usaha di Desa Sukorejo. DesaSukorejo merupakan salah satu desa yang memiliki Usaha Mikro Kecil dan Non-Usaha Mikro Kecil yangcukup variatif. Namun pemasaran hanya dilakukan secara door to door, sehingga jangkauan pemasaranterhadap UMKM relatif sedikit. Untuk itu, diperlukan pemahaman tentang pentingnya e-commerce danNomor Induk Berusaha (NIB) sebagai bentuk legalitas kemandirian berwirausaha. Penelitian ini bertujuanuntuk melatih para pelaku usaha dalam mendaftarkan lapak di OSS dan mendapatkan NIB dengan ecommerce (Shopee). Metode penelitian ini berupa pelatihan dan pendekatan terhadap masyarakatkhususnya ibu-ibu PKK di Desa Sukorejo. Indikator keberhasilan dapat dicapai melalui, (1) PeningkatanKesejahteraan UMKM Ibu-ibu PKK Desa Sukorejo, (2) Keberhasilan pendaftaran lapak di OSS dan NIB, (3)Kepuasan ibu-ibu PKK terhadap pelatihan e-commerce. Hal tersebut diukur menggunakan pretest danposttest. Data dianalisis melalui tahap reduksi data, penyajian data, dan verifikasi data. Hasil penelitianmenunjukkan bahwa ibu-ibu PKK Desa Sukorejo berhasil mendaftarkan lapak perorangan di OSS danmendapatkan NIB. Selain itu, respon peserta terhadap pelatihan ini baik sehingga memberikan hak legaluntuk lapak perorangan oleh ibu-ibu PKK.
Downloads
Download data is not yet available.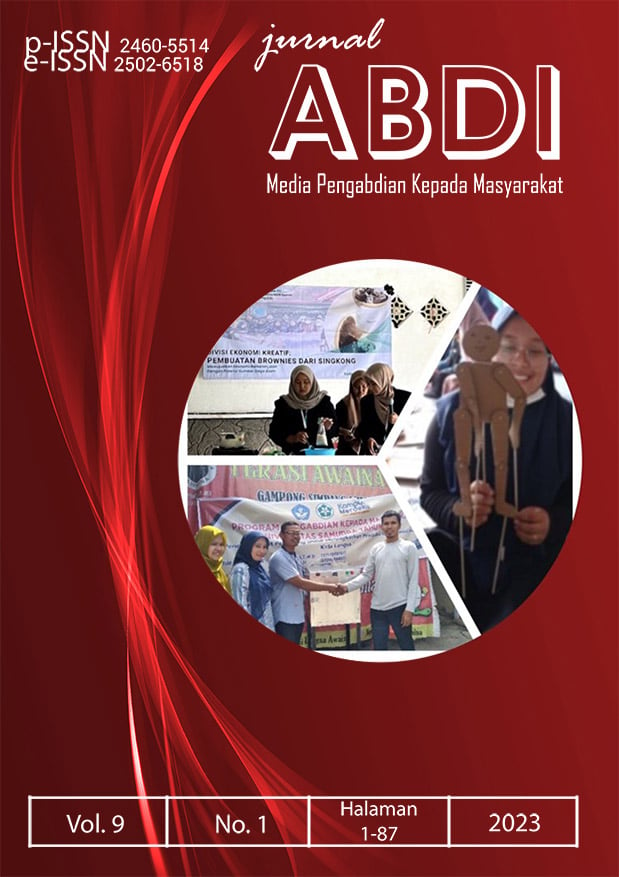 Downloads
License
Copyright (c) 2023 Jurnal ABDI: Media Pengabdian Kepada Masyarakat
This work is licensed under a Creative Commons Attribution 4.0 International License.
Authors who publish with this journal agree to the following terms:
Authors retain copyright and grant the journal right of first publication with the work simultaneously licensed under a Creative Commons Attribution-Non Commercial 4.0 License (CC BY-NC) that allows others to share the work with an acknowledgement of the work's authorship and initial publication in this journal for non commercial purposes.
Authors are able to enter into separate, additional contractual arrangements for the non-exclusive distribution of the journal's published version of the work (e.g., post it to an institutional repository or publish it in a book), with an acknowledgement of its initial publication in this journal.

Abstract views: 56 ,

PDF Downloads: 147