Mengembangkan Keterampilan Memecahkan Masalah melalui Pembelajaran Berdasar Masalah
Keywords:
problem solving, social behavior, hasil belajar
Abstract
Kemampuan pemecahan masalah merupakan salah tujuan pembelajaran level tinggi dalam ranah kognitif. Beberapa penelitian menunjukkan bahwa dengan menggunakan model pembelajaran tertentu memberikan dampak peningkatan yang signifikan terhadap peningkatan hasil belajar kognitif. Penelitian ini merupakan penelitian tindakan kelas kolaboratif yang bertujuan untuk mengetahui bagaimana pengaruh penggunaan model pembelajaran berbasis masalah terhadap kemampuan pemecahan masalah dan sikap sosial pebelajar. Penerapan model pembelajaran berbasis masalah dilakukan selama dua siklus dan pengukuran hasil belajar dilakukan dengan menggunakan instrumen penilaian non-test berupa lembar penilaian. Analisis data selanjutnya dilakukan dengan menggunakan metode penskoran. Hasil penelitian menunjukkan bahwa pada siklus satu kemampuan pemecahan masalah siswa belum optimal karena 75% subyek tidak berhasil menyelesaikan permasalahan. Selain itu, masih banyak ditemukan sikap yang tidak relevan dengan proses pembelajaran. Pada siklus kedua terjadi peningkatan kemampuan pemecahan masalah dengan indikasi bahwa 75% siswa mampu menyelesaikan permasalahan yang diberikan dan disertai dengan penurunan sikap yang tidak relevan.
Abstract
Problem solving ability is a high level learning goal in the cognitive domain. Some studies show that using certain learning models has a significant impact on improving cognitive learning outcomes. This research is a collaborative classroom action research which aims to find out how the influence of the use of problem-based learning models on students' problem solving abilities and social attitudes. The application of the problem-based learning model was carried out for two cycles and the measurement of learning outcomes was carried out using a non-test assessment instrument in the form of an assessment sheet. Data analysis is then carried out using the scoring method. The results showed that in the cycle one the problem solving ability of students was not optimal because seventy-five percent of the subjects did not succeed in solving the problem. In addition, there are still many attitudes that are not relevant to the learning process. In the second cycle there is an increase in problem solving ability with an indication that seventy-five percent of students are able to solve the problems given and accompanied by a decrease in irrelevant attitudes.
References
Arikunto, S. Suhardjono dan Supardi. 2009. Penelitian Tindakan Kelas. Jakarta: Bumi Aksara.

Arends, Richard I. 2007. Learning to Teach Belajar untuk Mengajar. Yogyakarta: Pustaka Belajar.

Bruner, J. 1966. Toward a theory of instruction. Cambridge, MA: Belknap Press of Harvard University Press.

Chaudhry N. G. and Rasool G., 2012. A Case Study on Improving Problem Solving Skills of Undergraduate Computer Science Students. World Applied Sciences Journal 20 (1): 34-39.

GAYP Adistana, 2016, œPengaruh Blended Learning Station-Rotation (Kooperatif Vs Kompetitif) Dan Gaya Kognitif, Terhadap Keterampilan Intelektual Manajemen Konstruksi. Disertasi dan Thesis. Program Pascasarjana UM.

Ibrahim, Muslimin, dan Nur, Muhammad. 2005. Pengajaran Berdasarkan Masalah. Surabaya: University Press.

Rusman. 2010. Model-model Pembelajaran. Jakarta: Raja Grafindo Persada.
Trianto. 2010. Mendesain Model Pembelajaran Inovatif Progresif. Jakarta: Kencana Predana Media Group

Vygotsky. 1978. Mind in Society: The Development of Higher Psychological Processes. Massachusetts: Harvard University Press.

Wiriaatmadja, Rochiati, 2006. Metode Penelitian Tindakan Kelas: Untuk Meningkatkan Kinerja Guru dan Dosen. Bandung: Remaja Rosdakarya.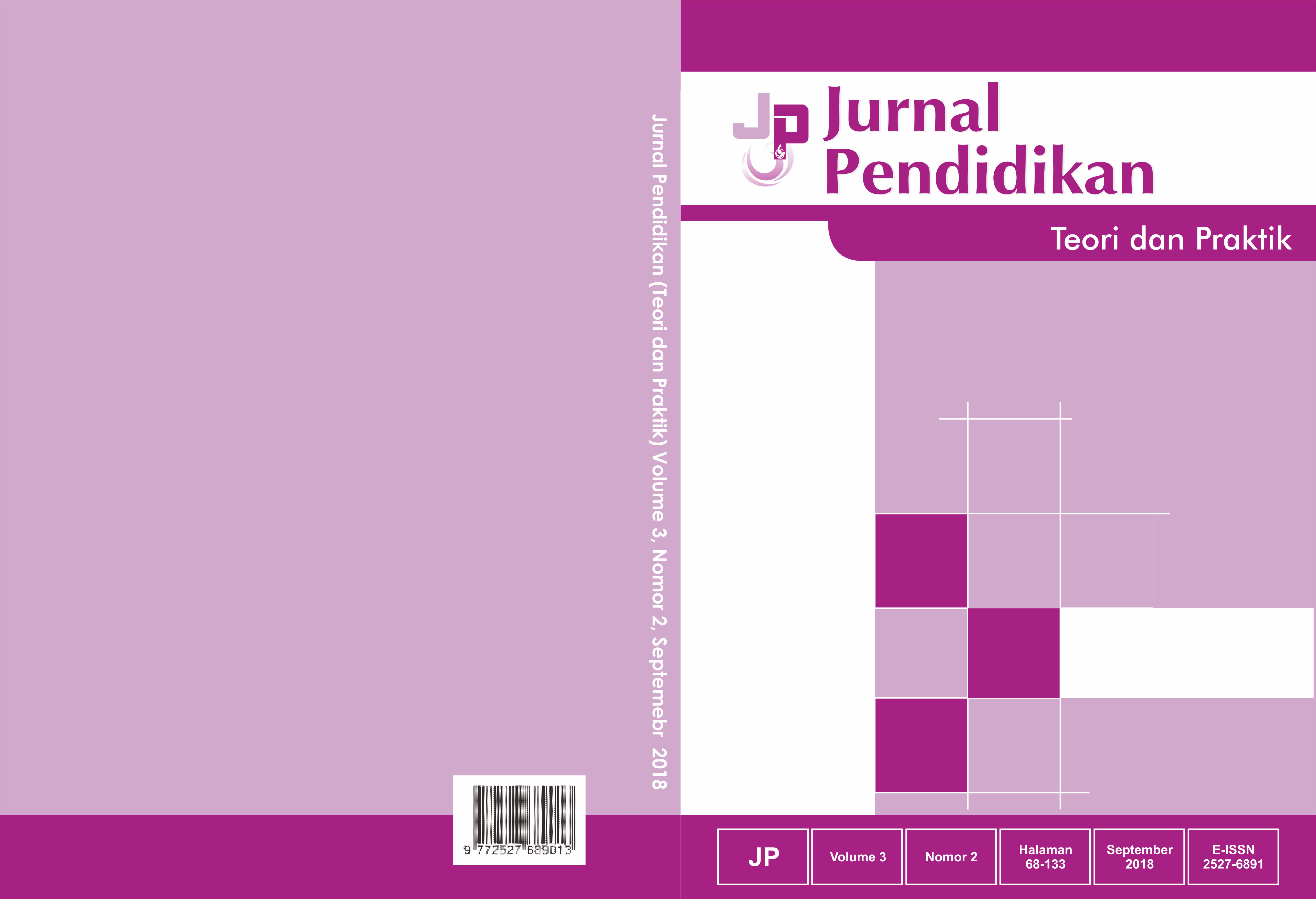 Downloads
How to Cite
Rahayu, I. A. T., & Adistana, G. A. Y. P. (2018). Mengembangkan Keterampilan Memecahkan Masalah melalui Pembelajaran Berdasar Masalah. JP (Jurnal Pendidikan) : Teori Dan Praktik, 3(2), 86–91. https://doi.org/10.26740/jp.v3n2.p86-91
License
Jurnal Pendidikan (Teori dan Praktik)
  is licensed under a 
Creative Commons Attribution-ShareAlike 4.0 International License
.

Abstract views: 1432 ,

PDF Downloads: 689