ANALISA INDIKATOR SMK PENYUMBANG PENGANGGURAN DI PROVINSI JAWA TIMUR
Abstract
ABSTRAK
Ketersediaan sumber daya manusia (SDM) yang mumpuni merupakan modal utama dalam membangun suatu bangsa. Sekolah Menengah Kejuruan (SMK) adalah pendidikan menengah yang didesain untuk mempersiapkan generasi bangsa untuk bias bekerja sesuai dengan kompetensi keahlian masing-masing. Pendidikan menengah kejuruan mengutamakan pengembangan kemampuan pesertadidik untuk melaksanakan jenis pekerjaan tertentu.SMK dibangun untuk tujuan membentuk tenaga kerja yang terampil, siap kerja, dan berdaya saing. Sehingga melalui pendidikan pada jenjang Sekolah Menengah Kejuruan (SMK) diharapkan dapat membantu akan pemenuhan tenaga kerja yang terampil dan kompeten dalam bidangnya. Pertumbuhan penduduk yang sangat cepat berakibat pada meningkatnya jumlah angkatan kerja. Semakin banyak jumlah angkatan kerja yang tidak terserap maka akan meningkatkan jumlah pengangguran. SMK sebagai pranata pendidikan jenjang menengah seharusnya menjadi pilihan utama yang menyiapkan lulusannya siap pakai di DU/DI. Hal ini karena tujuan utama pendidikan SMK adalah menyiapkan SDM unggul yang siap pakai pada dunia kerja, memiliki kepemimpinan tinggi, disiplin, profesional, handal di bidangnya dan produktif. Melihat ketimpangan yang terjadi antara harapan dengan fakta yang ada, maka perlu dilakukan kajian mendalam terhadap faktor-faktor penyebab SMK menjadi penyumbang terbesar dalam pegangguran terbuka sehingga akan dapat dibuat rumusan rekomendasi sebagai solusi atas permasalahan yang ada.                   
Kata Kunci: Kompetensi, Pengajar, Pengangguran, SMK.
ABSTRACT
The availability of qualified human resources (HR) is the main capital in building a nation. Vocational High School (SMK) is a secondary education that is designed to prepare the nation's generation to be able to work in accordance with their respective expertise competencies. Vocational secondary education prioritizes the development of the ability of students to carry out certain types of work. SMK is built for the purpose of creating a skilled, work-ready, and competitive workforce. So that through education at the Vocational High School level (SMK) is expected to help the fulfillment of a skilled and competent workforce in their fields. Rapid population growth results in an increase in the workforce. The more the number of labor force that is not absorbed, the more unemployment will increase. Vocational school as a secondary level education institution should be the main choice that prepares graduates ready to use at DU / DI. This is because the main objective of vocational education is to prepare superior human resources who are ready to use in the world of work, have high leadership, discipline, professional, reliable in their fields and productive. Seeing the imbalance that occurs between expectations and the available facts, it is necessary to conduct an in-depth study of the factors that cause SMKs to be the biggest contributors to open unemployment so that recommendations can be made as a solution to existing problems.
Keywords: Competence, Teacher, Unemployment, Vocational School
References
[1] Anggraeni, Novita Dwi, Yoto, dan Basuki. 2015. Studi Tentang Peran Serta Orang Tua dan Dunia Usaha / Industri Dalam Peningkatan Mutu Pendidikan di SMK Negeri 1 Singosari. Jurnal Teknik Me-sin, Tahun 23, No. 1, April 2015
[2] Grollmann, Philipp. 2008. The Quality of Vocational Teachers: teacher education, institutional roles and professional reality. European Educational Research Journal. Volume 7 Number 4 2008.
[3] Kemendikbud. 2015. Grand Design Pengembangan Teaching Factory dan Technopark di SMK. Ja-karta: Dit. PSMK Kemendikbud.
[4] Muhardi. 2004. Kontribusi dalam meningkatkan kualitas bangsa Indonesia. Naskah Juara Harapan I Lomba Karya Tulis Ilmiah (LKTI) Dosen TA 2004/2005. Mimbar Volume XX No. 4 Oktober Desember 2004 : 478 492.
[5] Perwitasari, Dian Fitri. 2013. Hubungan Fasilitas Praktikum TKJ di Sekolah Kesesuaian Tempat Prak-erin, dan Kompetensi TKJ Siswa dengan Hasil Uji Kompetensi Keahlian. Jurnal Pendidikan Sains, Volume 1, Nomor 4, Desember 2013, Halaman 425-431
[6] Sudarwan Danim. 2006. Visi Baru Manajemen Sekolah: Dari Unit Birokrasi ke Lembaga Akademik. Jakarta: Bumi Aksara.
[7] Wayong.Ch.Aaltje.D.2010.http://ejournal.undiksha.ac.id/index.php/APTEKINDO/index.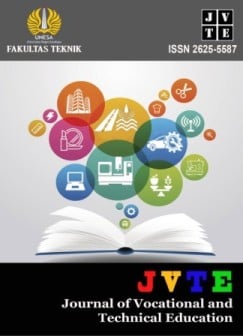 Downloads
License
Retained Rights/Terms and Conditions of Publication
1. As an author you (or your employer or institution) may do the following:
make copies (print or electronic) of the article for your own personal use, including for your own classroom teaching use;
make copies and distribute such copies (including through e-mail) of the article to research colleagues, for the personal use by such colleagues (but not commercially or systematically, e.g. via an e-mail list or list server);
present the article at a meeting or conference and to distribute copies of the article to the delegates attending such meeting;
for your employer, if the article is a 'work for hire, made within the scope of your employment, your employer may use all or part of the information in the article for other intra-company use (e.g. training);
retain patent and trademark rights and rights to any process, procedure, or article of manufacture described in the article;
include the article in full or in part in a thesis or dissertation (provided that this is not to be published commercially);
use the article or any part thereof in a printed compilation of your works, such as collected writings or lecture notes (subsequent to publication of the article in the journal); and prepare other derivative works, to extend the article into book-length form, or to otherwise re-use portions or excerpts in other works, with full acknowledgement of its original publication in the journal;
may reproduce or authorize others to reproduce the article, material extracted from the article, or derivative works for the authors personal use or for company use, provided that the source and the copyright notice are indicated, the copies are not used in any way that implies FACULTY OF ENGINEERING, UNIVERSITAS NEGERI SURABAYA endorsement of a product or service of any employer, and the copies themselves are not offered for sale.
All copies, print or electronic, or other use of the paper or article must include the appropriate bibliographic citation for the articles publication in the journal.
2. Requests from third parties
Although authors are permitted to re-use all or portions of the article in other works, this does not include granting third-party requests for reprinting, republishing, or other types of re-use. Requests for all uses not included above, including the authorization of third parties to reproduce or otherwise use all or part of the article (including figures and tables), should be referred to FACULTY OF ENGINEERING, UNIVERSITAS NEGERI SURABAYA by going to our website www.unesa.ac.id
3. Author Online Use
Personal Servers. Authors and/or their employers shall have the right to post the accepted version of articles pre-print version of the article, or revised personal version of the final text of the article (to reflect changes made in the peer review and editing process) on their own personal servers or the servers of their institutions or employers without permission from FACULTY OF ENGINEERING, UNIVERSITAS NEGERI SURABAYA, provided that the posted version includes a prominently displayed FACULTY OF ENGINEERING, UNIVERSITAS NEGERI SURABAYA copyright notice and, when published, a full citation to the original publication, including a link to the article abstract in the journal homepage. Authors shall not post the final, published versions of their papers;
Classroom or Internal Training Use. An author is expressly permitted to post any portion of the accepted version of his/her own articles on the authors personal web site or the servers of the authors institution or company in connection with the authors teaching, training, or work responsibilities, provided that the appropriate copyright, credit, and reuse notices appear prominently with the posted material. Examples of permitted uses are lecture materials, course packs, e-reserves, conference presentations, or in-house training courses;
Electronic Preprints. Before submitting an article to an JVTE Journal, authors frequently post their manuscripts to their own web site, their employers site, or to another server that invites constructive comment from colleagues. Upon submission of an article to JVTE Journal, an author is required to transfer copyright in the article to  FACULTY OF ENGINEERING, UNIVERSITAS NEGERI SURABAYA, and the author must update any previously posted version of the article with a prominently displayed  FACULTY OF ENGINEERING, UNIVERSITAS NEGERI SURABAYA copyright notice. Upon publication of an article by the  FACULTY OF ENGINEERING, UNIVERSITAS NEGERI SURABAYA, the author must replace any previously posted electronic versions of the article with either (1) the full citation to the work with a Digital Object Identifier (DOI) or link to the article abstract in JVTE journal homepage, or (2) the accepted version only (not the final, published version), including the  FACULTY OF ENGINEERING, UNIVERSITAS NEGERI SURABAYA copyright notice and full citation, with a link to the final, published article in journal homepage.
4. Articles in Press (AiP) service
 FACULTY OF ENGINEERING, UNIVERSITAS NEGERI SURABAYA may choose to publish an abstract or portions of the paper before we publish it in the journal. Please contact our Production department immediately if you do not want us to make any such prior publication for any reason, including disclosure of a patentable invention.
5. Author/Employer Rights
If you are employed and prepared the article on a subject within the scope of your employment, the copyright in the article belongs to your employer as a work-for-hire. In that case,  FACULTY OF ENGINEERING, UNIVERSITAS NEGERI SURABAYA assumes that when you sign this Form, you are authorized to do so by your employer and that your employer has consented to the transfer of copyright, to the representation and warranty of publication rights, and to all other terms and conditions of this Form. If such authorization and consent has not been given to you, an authorized representative of your employer should sign this Form as the Author.
6.  FACULTY OF ENGINEERING, UNIVERSITAS NEGERI SURABAYA Copyright Ownership
It is the formal policy of  FACULTY OF ENGINEERING, UNIVERSITAS NEGERI SURABAYA to own the copyrights to all copyrightable material in its technical publications and to the individual contributions contained therein, in order to protect the interests of the  FACULTY OF ENGINEERING, UNIVERSITAS NEGERI SURABAYA, its authors and their employers, and, at the same time, to facilitate the appropriate re-use of this material by others.  FACULTY OF ENGINEERING, UNIVERSITAS NEGERI SURABAYA distributes its technical publications throughout the world and does so by various means such as hard copy, microfiche, microfilm, and electronic media. It also abstracts and may translate its publications, and articles contained therein, for inclusion in various compendiums, collective works, databases and similar publications
Every accepted manuscript should be accompanied by "Copyright Transfer Agreement" prior to the article publication.
Abstract View: 508